What's the Most Interesting Thing Facebook Could Do Next Quarter?
Over the past year, Facebook (NASDAQ:FB) has been a playground for swing traders. The stock chart shows plenty of cliffs where savvy shorts have no doubt profited, and plenty of dips to buy. Meanwhile, those who bought at the IPO and have held their position are out more than 37 percent of their investment.
At a glance, it's easy to see that Facebook suffers from chronic investor pessimism. The lens through which the market interprets new information about Facebook is rarely favorable. Facebook Home, for example, was widely seen as a massive flop instead of one step forward in the innovation process.
Sheryl Sandberg, Facebook's chief operating officer, tried to paint the product in a positive light when asked about it at the D11 conference last week. She said that the app, which is designed to effectively replace the home screen of a smartphone with a Facebook interface, is "the first iteration," and indicated that "it will be a long road" before Home, or its successor, is perfected.
To investors, that's thinly-veiled code for: this isn't going to be increasing cash flow anytime soon.

Facebook's story is and always has been about mobile. The company has repeatedly proven itself to be a competent and innovative advertising platform, but the industry and the environment is changing rapidly and Facebook is struggling with everyone else to adapt. Mobile-only monthly active users are growing at a much faster rate (128 percent on the year) than total active users (26 percent on the year).
The downside to this is that Facebook hasn't yet cracked the code for mobile advertising. In the most recent quarter, mobile ads accounted for just 30 percent of total ad revenue, while 68 percent of users actively use Facebook from a mobile device. The trend is expected to only continue toward mobile, and Facebook must demonstrate that it can effectively increase mobile ad yield.
The next big step in that process, as indicated by Sandberg, is to increase the quality of the ads served.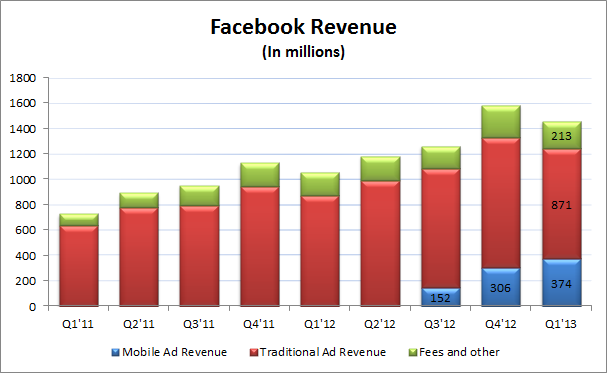 Perhaps the most interesting thing that Facebook could do next quarter is roll out video ads. The recent pullback in share price combined with the prospect of video ads was cited as a reason why analysts at Jefferies increased their rating on the stock from Hold to Buy, and increased the price target to $32.
One reason video ads are so interesting is because they could increase cash flow. The Jefferies analysts alluded to the idea that video ads on the social network could be a billion-dollar business. Digital advertising spending is expected to hit $4.1 billion in 2013, and Facebook doesn't seem willing to let Google's (NASDAQ:GOOG) YouTube have all the fun.
Pushing video ads in front of users will be a balancing act, but it's Facebook's business to thread the needle between just enough and too much advertising. The Financial Times originally reported that Facebook could be rolling out video ads in July in an attempt to help turn around investor sentiment. The ads will reportedly use some sort of auto-play mechanic, but it's unclear what that will look like.
People familiar with the company's plans told the Financial Times that Facebook could charge in the low $20s per thousand video views. Each ad would be limited to 15 seconds of play.
Don't Miss: More Layoffs and Reduced Outlook: Is Zynga Sinking?