What's Underwear Saying About the Economy?
Back in the 1970s, Alan Greenspan, the former chairman of the Federal Reserve, was still running his own economic consulting firm.  One of the economic indicators he looked at was sales of men's underwear.  The theory is that sales rose steadily in regular economic times, but dipped when men had less money, or had to cut back on expenditures.  Although the underwear indicator is mostly looked at for men, because women are more sensitive about wearing worn undergarments, a new creation from Victoria's Secret (NYSE:LTD) may illustrate just how bizarre and divided the current economy really is.
The lingerie company recently showed off a highly customized $2.5 million Fantasy Treasure Bra.  The decked out bra is made of 3,400 gems that were hand-stitched into the piece.  The bra, which took 500 hours to create, contains pearls and 142 carats of diamonds.  It will be on display at the Victoria's Secret Fashion Show on CBS (NYSE:CBS) in November.  Although the luxury bra may impress, the performance of underwear stocks still paint a mixed picture for the economy.
Investing Insights: 5 Stocks Winning Despite Record Misery Levels.
The Warnaco Group, Inc. (NYSE:WRC) has evolved into a global apparel leader which designs, sources, markets, licenses and distributes a broad line of intimate apparel, including Calvin Klein Underwear for Men and Women.  Shares are down 16% for the year.  In May, the company reported a 8.2% decrease in net income.  With the domestic economy remaining flat, international sales continue to account for the majority of the company's revenue.
Shares of Maidenform Brands, Inc. (NYSE:MFB) and Hanesbrands Inc. (NYSE:HBI) have both gained about 3% this year.  Maidenform primarily sells bras, panties, and shape-wear under various brands, while Hanesbrands engages in the design, manufacture, sourcing, and sale of basic apparels in the US and internationally. Its product portfolio includes T-shirts, bras, panties, mens underwear, kids underwear, casual-wear, activewear, and socks.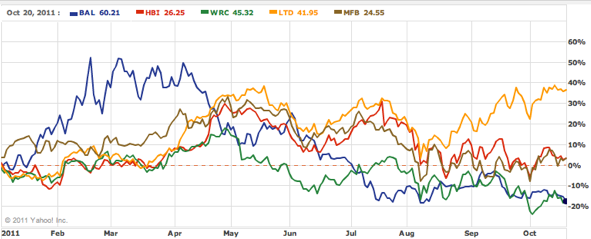 As the chart shows, despite falling cotton (NYSE:BAL) prices, Limited Brands, Inc. (NYSE:LTD) is vastly outperforming the competitors.  Shares are up 39% year-to-date.  The company is a retailer of women's intimate and other apparel, beauty and personal care products, and accessories in the US and Canada.  It offers lingerie, fragrances, and cosmetics under Victoria's Secret, Pink, Bath & Body Works, and The White Barn Candle Company.  Perhaps the $2.5 million bra represents the treasure chest that's waiting for shareholders?
Investing Insights: GE vs. Honeywell: Which Company Do Investors Pick for the New Normal?