Where Will Tiffany & Co. Go Next?
With shares of Tiffany & Co. (NYSE:TIF) trading around $68, is TIF an OUTPERFORM, WAIT AND SEE or STAY AWAY? Let's analyze the stock with the relevant sections of our CHEAT SHEET investing framework:
T = Trends for a Stock's Movement
Tiffany & Co. engages in the design, manufacture, and retail of fine jewelry worldwide. Its jewelry products include fine and solitaire jewelry; diamond engagement rings and wedding bands for brides and grooms; and non-gemstone, sterling silver, gold, and platinum jewelry. Fine jewelry has caught the eyes of consumers for centuries and it seems as if this will never change. Tiffany & Co. has a vision of continuing to provide the excellent products that people across the globe desire.
Head on over to the next page to explore the technical landscape of Tiffany & Co.'s stock…
T = Technicals on the Stock Chart are Strong
Tiffany & Co. has displayed a beautiful uptrend over the last couple of decades. Taking a look at the daily chart below, the stock is currently trading near highs for the year and looks to be coasting towards the previous all-time high level near $84 per share. A price trend and its strength can be identified using key simple moving averages. What are the key moving averages? The 50-day (pink), 100-day (blue), and 200-day (yellow) simple moving averages. Tiffany & Co. is trading above all of its rising key averages which signals a strong uptrend in the price of the stock.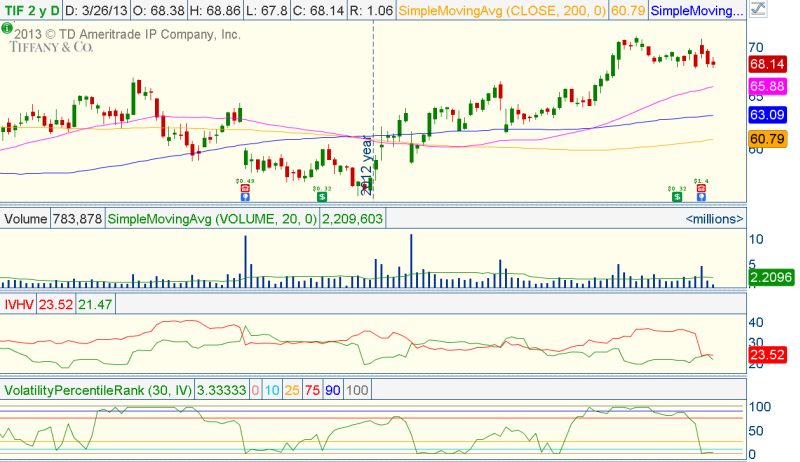 (Source: Thinkorswim)
Taking a look at the implied volatility and implied volatility skew levels of Tiffany & Co. options may help determine if investors are bullish, neutral, or bearish. As seen in the price chart above, the implied volatility (red) of Tiffany & Co. options is at 23.52 percent today which coincides with a third percentile over the last 30 trading days and fifth percentile over the last 90 trading days. What does this mean? This means that investors or traders are buying a very small amount of call and put options contracts, as compared to the last 30 and 90 trading days.
The implied volatility skew of April and May put and call options is at about average. So as of today, there is an average demand from call and put buyers or average supply of call and put sellers, all neutral over the next two months. Investors are buying a minimal amount of call and put option contracts and are leaning neutral over the next two months.
On the next page, let's take a look at the earnings and revenue growth rates.
E = Earnings Are Increasing Quarter-Over-Quarter
Rising stock prices are often strongly correlated with rising growth rates. What do the last four quarterly earnings and revenue growth figures for Tiffany & Co. look like? The last four quarterly earnings growth (Y-O-Y) rates have been: 1.45, -30, 4.35, and 1.59 percent while the last four revenue growth (Y-O-Y) rates have all been: 4.07, 3.77, 1.59, and 7.64 percent. Tiffany & Co. has mostly posted rising earnings and revenue growth (Y-O-Y) over the last four quarters.
More importantly, how did the markets take these numbers? The last four quarterly earnings announcement reactions help gauge investor sentiment on Tiffany & Co.'s stock. The last four quarters have seen next trading session returns of 1.94, -6.16, 7.19, and -6.8 percent. The markets have had mixed emotions about the last four reported earnings.
P = Excellent Relative Performance Versus Peers and Sector
How has Tiffany & Co. stock done relative to its peers and sector? Year-to-date, the stock is returning 15.65 percent while its competitors, Zale (NYSE:ZLC), Blue Nile (NASDAQ:NILE), and sector are returning -11.33, -12.35, and 10.25 percent respectively. Tiffany & Co. has led the competition by a wide margin.
Conclusion
Tiffany & Co. provides access to a range of products that have attracted investors throughout the years. Earnings and revenue growth rates have supported a strong run in the stock. This had led the stock to post year-to-date returns that have dominated the  competition. Look for Tiffany & Co. to continue to OUTPERFORM.
Using a solid investing framework such as this can help improve your stock-picking skills. Don't waste another minute — click here and get our CHEAT SHEET stock picks now.