Which Airlines Are Making It Easier for the American-US Airways Merger?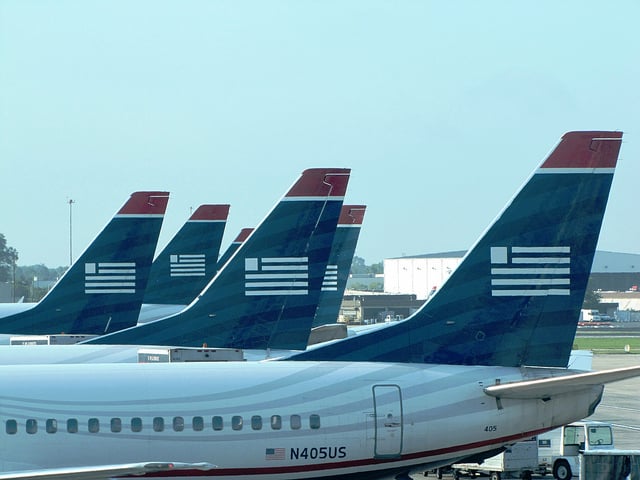 Southwest Airlines (NYSE:LUV) and JetBlue (NASDAQ:JBLU) may seem like they should be in opposition to the proposed merger between AMR Corp.'s (AAMRQ.PK) American Airlines and US Airways (NYSE:LCC), as a merger that will create the world's biggest airline by traffic would create a huge new competitor for smaller carriers like Southwest and JetBlue. But the airlines are interested in the merger because of what American and US Airways will have to give up in order to receive approval from the U.S. Department of Justice, which has sued to block the merger.
According to a report from Bloomberg, Southwest and JetBlue have both expressed interest in acquiring some of the slots that American and US Airways will have to give up at Ronald Reagan National Airport outside of Washington, D.C.
With no divestitures, the merged airline would own 69 percent of the takeoff and landing slots at that airport. People familiar with the matter who spoke to Bloomberg said that Southwest and JetBlue have told U.S. regulators that they want American and US Airways to give up as many slots at the airport as possible, as well as spaces at New York's LaGuardia airport.
The Justice Department sued to stop the US Airways-American Airlines merger on the grounds that it will cut down on too much competition and raise airfare for consumers. The DoJ said that the airlines will have to give up slots at major airports around the country if the merger is to go through; having parties interested in purchasing the slots will make that process easier for American and US Airways.
Last week, reports started coming out that the airlines are negotiating with the DoJ about the slots and that the parties could come to an agreement before their trial begins on November 25. AMR Corp. CEO Tom Horton said to Bloomberg last week that he believes "If there's a reasonable settlement, I think it's better for both sides," rather than going to trial. The CEO expressed confidence to the news service that "there's a way" for the parties to reach an agreement. Sources familiar with the talks also reported that the airlines and the DoJ are negotiating to attempt to reach a settlement in advance of the trial, Bloomberg reports.
Now that the two airlines have competitors interested in buying the slots they're being forced to give up, the chances for a potential deal with the DoJ before the trial starts are looking even better.
Follow Jacqueline on Twitter @Jacqui_WSCS
Don't Miss: 5 Ways to Fly Without Breaking the Bank.