Which Restaurants Are Winning the Inflation War?
Bank of America's (NYSE:BAC) Economics team recently found that eating out is becoming cheaper than cooking at home.  Spending on food outside of the home is increasing while spending on food at home is slowing.  As prices at the grocery store increase faster than menu prices, consumers are more willing to dine out.
The report explains, "According to the Bureau of Labor Statistics, prices for food at home (grocers) are advancing over 6% per year. That is roughly two-and-a-half times faster than prices for food away from home (restaurants). While this data may not line-up with what you hear from the industry, our point here is more on direction of the series. Notice that food at home is more volatile than price movements in the food away from home category. Why the divergence? Grocers tend to be more sensitive to raw commodity prices. Recall the underlying premise of our inflation forecast: spare capacity, particularly in the labor market, will constrain inflation."
Don't Miss: Starbucks' Winning Strategy for Seasonal Sales.
Restaurants are able to offset some of the rising cost of goods because of the labor market.  With youth unemployment over 20%, restaurants are better positioned to offset higher food prices by lower wages.  The report also explains that workers in grocery stores are more likely to be unionized, thus limiting the ability of grocers to offset higher food prices through wages.  On the contrary, investors will need to keep an eye on international rising labor wages.  Yum! Brands (NYSE:YUM), which receives a third of its profit from China (NYSE:FXI), explained that its full-year margins will decrease this year because of China's 15% increase in minimum wages.  The chart below shows the increasing cost of going to the grocery store.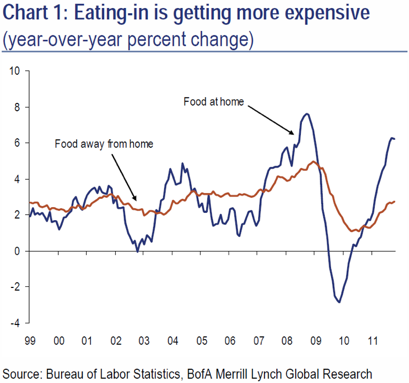 Investors looking for restaurant plays need to do their due diligence and wait for buying opportunities.  On Tuesday, Darden Restaurants Inc. (NYSE:DRI) cut its full-year outlook as profits stumble due to rising commodity costs and falling customer traffic.  Darden said it estimates U.S. same-restaurant sales to fall 2.5% for Olive Garden and grow 6.8% and 6% at its Red Lobster and LongHorn Steakhouse chains, respectively.  "Olive Garden's soft performance appears to be brand-specific and management is pursuing a range of initiatives to reverse negative operating trends," Baird Equity Research analyst David Tarantino wrote in a client note.  Shares are down almost 7% year-to-date.  Shares of the Cheesecake Factory Inc. (NASDAQ:CAKE), are also down nearly 7% year-to-date.
Investing Insights: Are Shareholders Benefiting From the Health Conscious Consumer?
However, other restaurants that focus on deep value and quick service are in positive territory for the year.  Shares of McDonalds Corp. (NYSE:MCD), Panera Bread Co. (NASDAQ:PNRA) and Dominos Pizza Inc. (NYSE:DPZ) have surged 27%, 39% and 118% year-to-date, respectively.  On Friday, both McDonalds Corp. and Dominos Pizza Inc. hit fresh 52-week highs.  McDonalds Corp. is also one of Genworth Financial's top holdings in the Services sector.  Chipotle Mexican Grill (NYSE:CMG) shares are also a big winner with a 59% increase year-to-date.
Like investors, Fitch Ratings has mixed feelings about the restaurant sector.  Their recent report calls for "contained" credit risk and "limited" margin growth. Analysts foresee opportunities for limited-service restaurants to counteract the damage with continuous growth of same-store sales and affordable franchising, despite their projection that climbing protein prices will eat away at margins.
Don't Miss: Craft Brewer's Pint Glass Runneth Over: New Belgium Faces Branding Challenges that Come with Growth.