Which Retailers are WINNING in Today's Economy?
The latest same-store sales results from major retailers indicates that consumers are still struggling with high unemployment and overall weak economic conditions. In June, sales for 20 chains in the Thomson Reuters index edged only 0.1 percent higher, well below the estimated 0.5 percent from analysts and the 6.7 percent increase witnessed a year earlier. It was the worst June for retailers in three years.
Discount retailer stocks such as Costco Wholesale Corp. (NASDAQ:COST) and Target Corp. (NYSE:TGT) have performed well this year, but both declined on Thursday after failing to meet June estimates. Costco was expected to grow same-store sales by 3.7 percent, but only managed a 3 percent increase. Meanwhile, Target reported an increase of 2.1 percent, below estimates of 2.4 percent. "There is a dichotomy," among retailers, said Nancy Liu, retail strategist at Kurt Salmon, according to WSJ. "If you're middle class, you're not going to spend freely across stores because you're concerned about money. This makes for a more competitive environment for retailers." Kohl's Corp. (NYSE:KSS) and The Buckle Inc. (NYSE:BKE) also missed June estimates. It was the third consecutive month of falling sales for Kohl's.
Don't Miss: Warren Buffett Picks a WINNER with Walmart
Although many discount retailers struggled in June, higher-end names such as Nordstrom Inc. (NYSE:JWN) and Saks Inc. (NYSE:SKS) beat estimates. Nordstrom reported an increase of 8.1 percent in sales at stores open at least 12 months, while Saks posted a 6 percent increase. Shares of both companies jumped more than 2 percent in afternoon trading on Thursday. "The high-end consumer has faired particularly well throughout this recovery," Ken Perkins, president of Swampscott, Massachusetts-based Retail Metrics, said in an interview with Bloomberg. "On the low end, a lot of middle-income consumers have traded down."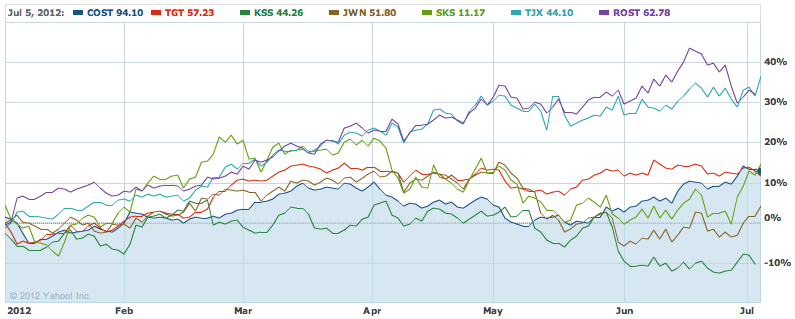 As the chart above shows, it has been a mixed year for retail stocks. TJX Companies Inc. (NYSE:TJX) and Ross Stores Inc. (NASDAQ:ROST) have led the pack with gains of more than 30 percent year-to-date. Meanwhile, Kohl's have lagged behind with negative gains. Costco and Target have both increased about 13 percent year-to-date.
One of the biggest standouts from the June numbers was Limited Brands (NYSE:LTD), the parent of Victoria's Secret and Bath & Body Works. Same-stores sales for the company surged 7 percent last month, compared to expectations of only 2.4 percent. Limited posted an 11 percent same-store sales jump at Victoria's Secret. "What's driving Victoria's Secret is two things," said Dana Telsey, CEO and chief research officer of Telsey Advisory Group, according to CNBC. "No. 1 is the continuos flow of new product launches at competitive prices; No. 2 is the Pink category. The Pink category has expanded from beyond just intimate apparel to loungewear, too, and it's younger and newer." Limited shares have gained 15 percent this year.
Investor Insight: RIM Status: DEFCON DENIAL