Whirlpool Earnings: Outlook Surprises to the Upside
S&P 500 (NYSE:SPY) component Whirlpool Corporation (NYSE:WHR) reported net income above Wall Street's expectations for the first quarter. Whirlpool Corporation manufactures and markets appliances and products for home use. It makes washers, dryers, refrigerators, air conditioners, dishwashers, freezers, microwave ovens, ranges, trash compactors and air purifiers.
Don't Miss: Wall St. Cheat Sheet's newest Feature Trades of the Month!
Whirlpool Earnings Cheat Sheet for the First Quarter
Results: Net income for the appliances company rose to $169 million ($2.17/share) vs. $164 million ($2.13/share) in the same quarter a year earlier. A rise of 3% from the year earlier quarter.
Revenue: Rose 3% to $4.4 billion YoY.
Actual vs. Wall St. Expectations: WHR beat the mean analyst estimate of $1.64/share. Estimates ranged from $1.23 per share to $1.93 per share.
Quoting Management: "Our first quarter results reflect our ongoing cost reduction efforts and continued innovation investments, which helped to mitigate significant material cost inflation," said Jeff M. Fettig, chairman and chief executive officer of Whirlpool Corporation. "We recently announced a 16% dividend increase, reflective of the success of our brand value creation strategy and our strong financial position. We remain committed to attracting and retaining consumers to our brands, providing excellent service and value to our trade customers and consumers while driving lower costs and higher quality across our global operations."
Key Stats:
Net income has increased 75.6% year over year on average across the last five quarters. The biggest gain came in the second quarter of the last fiscal year, when income climbed more than twofold from the year earlier quarter.
Competitors to Watch: Fisher & Paykel Appliances Hldgs. Ltd (FPA), Indesit Company SpA (NYSE:IND), General Electric (NYSE:GE), Siemens (NYSE:SI), Abans Electricals PLC (ABAN), and Metall Zug AG (METN).
Today's Performance: Shares of WHR are trading at $91.15 as of April 27, 2011 at 9:28 AM ET, up 3.74% from the previous close of $87.86.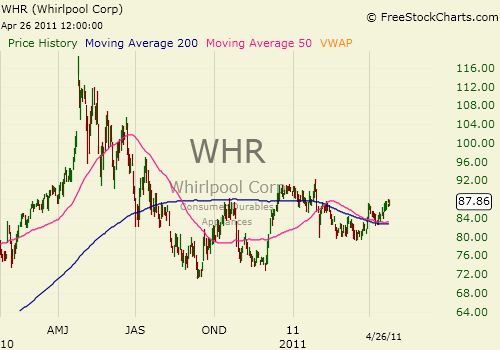 Don't Miss Wall St. Cheat Sheet's newest Feature Trades of the Month!