Who Holds the Most Gold?
What a difference a day or two can make. Gold went from a tolerable asset to the most hated object on Wall Street. The recent drop in the precious metal has supplied plenty of ammo for gold critics, but major holders are not likely to sell anytime soon.
The rapid decline in gold started on Friday, with the price falling below $1,500 per ounce for the first time since July 2011. The weekend was not nearly long enough to stem the heavy liquidation process. On Monday, gold futures for the most active contract plunged $140.30 to close at $1,361.10 per ounce, its lowest level since February 2011. It was golds biggest one-day percentage drop since 1980, and the largest decline in dollar terms on record.
So-called goldbugs are receiving more heat than ever, despite the precious metal climbing higher for twelve consecutive years. Hedge-fund manager John Paulson is perhaps the most well-known gold investor. He is estimated to have lost almost $1 billion in just two trading days, according to Bloomberg. Paulson is known for correctly identifying and profiting heavily from the housing bubble, and is also the largest shareholder of the SPDR Gold Trust.
Paulson does not appear to be deterred by the latest decline in gold. After all, dramatic moves in precious metals are nothing new. At the beginning of the financial crisis in 2008, gold fell from $1,000 to $700 per ounce, while silver plunged from $21 to $9 per ounce. In 2006, gold stumbled from $725 to $570 per ounce and silver fell from $15 to $10 per ounce.
Federal governments have been printing money at an unprecedented rate creating demand for gold as an alternative currency for individual and institutional savers and central banks alike, John Reade, a partner and gold strategist at Paulson & Co., tells Bloomberg. While gold can be volatile in the short term and is going through one of its periodic adjustments, we believe the long-term trend of increasing demand for gold in lieu of paper is intact.
The biggest gold holders in the world…
In the bigger picture, Paulson is merely a blip on the radar when countries are considered. Heres a look at the ten biggest gold holders according to the World Gold Council, along with the percentage of reserves:
United States: 8,133.5 tonnes, 75.1 percent
Germany: 3,391.3 tonnes, 72.1 percent
IMF: 2,814 tonnes
Italy: 2,451.8 tonnes, 71.3 percent
France: 2,435.4 tonnes, 69.5 percent
China: 1,054.1 tonnes, 1.6 percent
Switzerland: 1,040.1 tonnes, 10.0 percent
Russia: 976.9 tonnes, 9.5 percent
Japan: 765.2 tonnes, 3.1 percent
Netherlands: 612.5 tonnes, 58.7 percent
According to the World Gold Councils latest report, central banks purchased 145 tonnes of gold in the fourth quarter of 2012, the highest quarterly haul since the sector became net buyers in 2009. For the entire year, central bank buying surged 17 percent to 534.6 tonnes, the highest annual total since 1964. In comparison, central banks bought 456.8 tonnes in 2011.
Here's how the market traded Wednesday: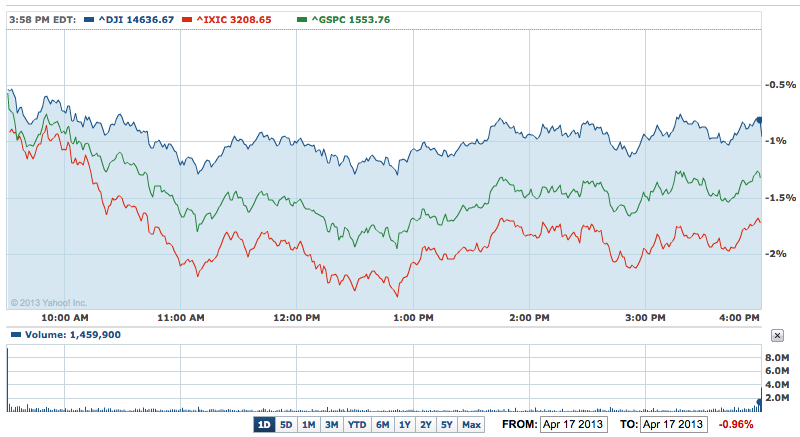 Don't Miss: How Much Gold Exists in the World?
If you would like to receive professional analysis on miners and other precious metal investments,we invite you to try our premium service free for 14 days.
Disclosure: Long EXK, AG, HL, PHYS