Who Needs Thanksgiving Dinner When You Can Go to Wal-Mart?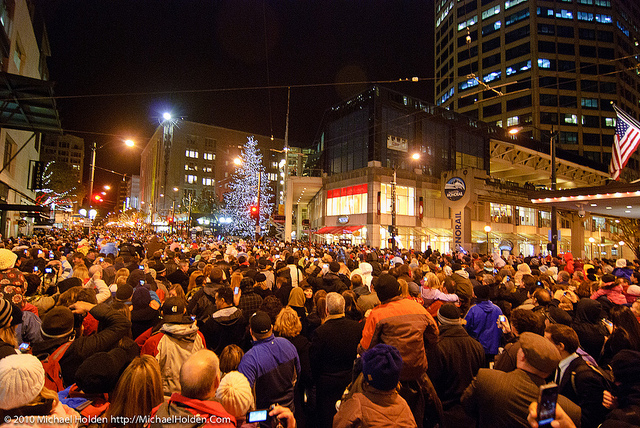 Eating Thanksgiving dinner is so last season. At least Wal-Mart Stores (NYSE:WMT) thinks so, and announced Tuesday that it will kick off the holiday shopping season even earlier this year, opening doors just in time for Thanksgiving evening. According to USA Today, the retail giant will hold two major sales events at 6 p.m. and 8 p.m. November 28, and that reflects a two-hour jump from last year. Who knows — maybe in 2014, the sales will debut with the Macy's Thanksgiving Day Parade.
Nonetheless, Wal-Mart isn't alone in its early-bird specials, and it is actually one of the last retailers to detail its Black Friday plans, as Target (NYSE:TGT), Best Buy (NYSE:BBY), and Macy's (NYSE:M) have already announced that they will open Thursday night as well. The start time for Black Friday sales has inched earlier and earlier with each new year, but this is one of the first times that major sales have moved to Thursday, and online deal expert Brad Wilson calls it a "big move" explaining, "We saw even in the last two years, when stores were opening Thursday, they weren't necessarily kicking off their promotions on Thursday — the best deals wouldn't necessarily start at 6 p.m. and 8 p.m. This really shifts the focus."
Luckily, those who actually want to enjoy a real Thanksgiving dinner will still be able to secure exclusive sales at Wal-Mart that begin Friday at 8 a.m. and include "manager's specials" discounts. However, the entire feel of Black Friday shopping is clearly changing, and this year, exclusive Thanksgiving deals will likely reflect the first of many.
This year's holiday shopping season is especially different than others because it is a full six days shorter, and comes as the U.S. economy is still slowly recovering and consumers continue to digest the political stalemate in Washington. Retailers are upping their efforts to exceed the less-than-optimistic sales predictions for this shopping period, but analysts have continued to roll out modest forecasts.
It'll also be interesting to see how brick-and-mortar stores like Wal-Mart and Target fare this holiday season, because online shopping via Amazon (NASDAQ:AMZN) is now more popular than ever. Retailers recognize this and have worked to overcompensate with better customer service, more in-store sales, and even free delivery, but only time will tell if they'll be able to effectively tame the Amazon dragon.
USA Today reports that Target will open at 8 p.m. on Thanksgiving and Best Buy will welcome customers at 6 p.m. Macy's, J.C. Penney (NYSE:JCP), and Kohl's (NYSE:KSS) will also open on Turkey Day for the first time ever, and Kmart (NASDAQ:SHLD) will open at 6 a.m. Thanksgiving morning and remain open for 41 hours straight.
In addition to the earlier start time, Wal-Mart is also setting itself apart from the retail crowd this year by offering 21 "guaranteed" products, 18 more than last year. These offerings are reserved for the customers that stand in line for them during the 6 p.m. to 7 p.m. and 8 p.m. to 9 p.m. Thursday events, and as the name suggests, they help guarantee that consumers will get the products they want (either that night or before Christmas) as long as they come out on Thanksgiving to wait in line.
According to USA Today, Wal-Mart will even offer shoppers wristbands on some "guaranteed" products, allowing them to shop for other items once they've done their duty of standing in line. Customers with those wrist bands have to pick up their product within two hours of the start of the sales events. Deal experts who have seen Wal-Mart's deals also now call them some of the best ever, and we'd hope so, considering many Americans now need to sacrifice their holidays to secure them.
Don't Miss: Dear Amazon: Thanks for the Ideas. Love, Target.