Whole Foods Finds Fresh Success in New Locations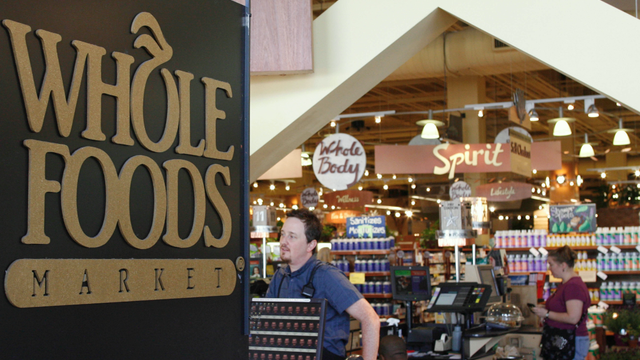 Not everyone has always believed in Whole Foods Market (NASDAQ:WFM), but Whole Foods has always believed in itself. The Americans foods supermarket chain is adored by health-conscious shoppers across the U.S., but it is known for its fresh, local, and organic offerings just as much as it is known for its steep prices, so when the company announced two years ago that it wanted to expand to 1,000 stores in less populous and more suburban places, investors weren't so sure how they felt about its new endeavor. Traditional grocery stores snickered at the idea of Whole Foods laying claim to territory where suburbanites couldn't care less about organic foods and definitely didn't know what kale was, but much to their chagrin, the company is now thriving in their newest locations, and the Wall Street Journal helps explain why.
The Journal published an in-depth report of Whole Foods's progress in smaller cities Monday, and illuminated how the Austin, Texas-based grocery chain is actually doing much better than many anticipated, thanking its loyal customers and exclusive products for its success. When Whole Foods announced two years ago that it wanted to expand to 1,000 stores, the company only had 300 under its belt, and most of those were located in urban, highly-populated areas, so investors weren't confident its success would carry over to new locations. Whole Foods in a city is different than Whole Foods in a sparsely-populated suburbs because urbanites are typically known as the consumers who are willing to make the trek for healthy offerings and the local produce — at the highest price — while suburbanites are less inclined to do so. The Journal explains that investors were reluctant to believe that shoppers in the suburbs would care that their meat was humanly raised, let alone fork over the cash for it, but as it turns out, they were wrong.
Whole Foods has now opened a handful of stores in smaller cities and is continuing to see increased foot traffic as it planes to open more and more suburban stores. The company now operates a store in Boise, Idaho for example, and despite the fact that Boise — population 212,00 — is the most remote city of its size in the country, Whole Foods is still thriving as consumers make the drive to their high-end supermarket store for their sophisticated grocery needs. The Journal highlights one loyal Boise shopper, Beth Brigham, who says she drives about a half-hour to the store and explains that, "I was so excited when I heard it was coming I even bought the stock. I really like organic, healthy stuff, and the selection in other stores here was much more limited."
Thus, Whole Foods is proving that consumers all over the country really are interested in high-end, locally grown products, even if they come at a loftier price tag. Although some of its new cities require that shoppers travel a far distance to access the goods, consumers have demonstrated that they're willing to do it, and investment analyst Meredith Adler even admits, "I really did wonder what they were thinking. But at this very early stage, the strategy does appear to be working."
But just as much as Whole Foods's sales strategy should be credited, so too should the changing interest of consumers. More and more shoppers are now becoming health conscious and ready to fork over the big bucks for the best food, and Whole Foods co-chief executive recognizes this too as he explains, via the Journal, "Farmers' markets were nonexistent 10 years ago in most places, and no one was talking about local food. There is a whole revolution going on around food now that isn't limited to the coast. Consumers know more about food, where it comes from, what's in it and the connection between diet and health."
No one stands to benefit from this revolution more than Whole Foods does. The company thrives on consumers' interest in the highest quality ingredients, and its shoppers all across the country are finally proving that they are just as concerned about the freshest food as their urbanite counterparts are.
Don't Miss: 31 Best Recipes and Tips of Cookie Week 2013.