Who's Opposing the Smithfield-Shuanghui Deal Now?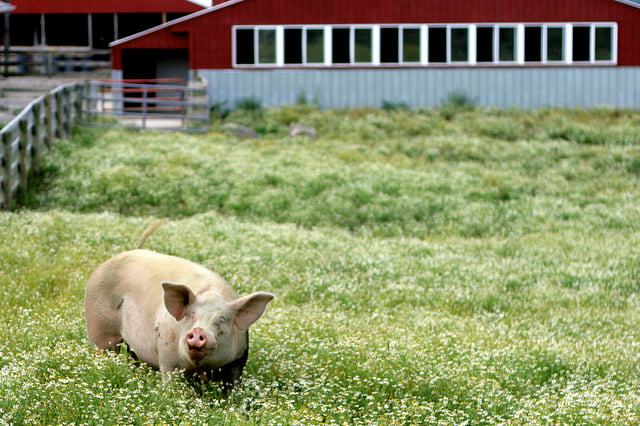 Activist investor Starboard Value is urging Smithfield Foods (NYSE:SFD) to break up rather than accept a buyout offer from Chinese meat producer Shuanghui International, saying a breakup would give the company greater value.
Starboard Value owns a 5.7 percent stake in the world's largest pork producer. In a letter written to Smithfield cited by The New York Times, Starboard said the company would be worth much more than the $34 a share being offered by Shuanghui if the company split into hog production, pork, and international units and sold those businesses separately. Starboard believes Smithfield could get between $44 and $55 a share buy splitting up the company.
The proposed $4.7 billion deal between Smithfield and Shuanghui would be the largest Chinese takeover of an American company, but it has faced opposition from lawmakers who fear the buyout would compromise food safety. Food safety issues have been rampant in China as of late. Shuanghui itself had to recall some of its Shineway brand package meat products when it was found they contained an illegal feed additive. Other issues have included contaminated milk that killed six people and rat meat being packaged and sold as mutton.
Smithfield responded to these concerns by stressing the fact that the takeover will involve Smithfield exporting its pork to feed the growing Chinese middle class, and that the company would not be importing any meat from China. As Americans have become more conscious about the food they eat, and the organic industry in the country has blossomed, such food safety concerns are raising public outcry. Food safety group Food and Water Watch has asked Congress to stop the deal from going through. Meanwhile, China's growing middle class has been demanding more pork.
Others have called for a Smithfield breakup in the past. Former investor ContiGroup Companies also believed a breakup would best serve the company, but decided to sell its entire stake in Smithfield when stocks rose after the Shuanghui deal was announced. Smithfield's management and Shuanghui have defended keeping the company whole.
Starboard has offered to find buyers for the separate divisions if Smithfield decides to listen to the hedge fund's advice. Smithfield is one of Starboard's biggest targets to date, and with both Smithfield and Shuanghui committed to keeping the company together it remains unclear if Smithfield will take Starboard's suggestion into consideration.
Investing Insights: Can Green Mountain Coffee Roasters Continue This Bull Run?