Who's Still Buying Stocks Near Record Highs?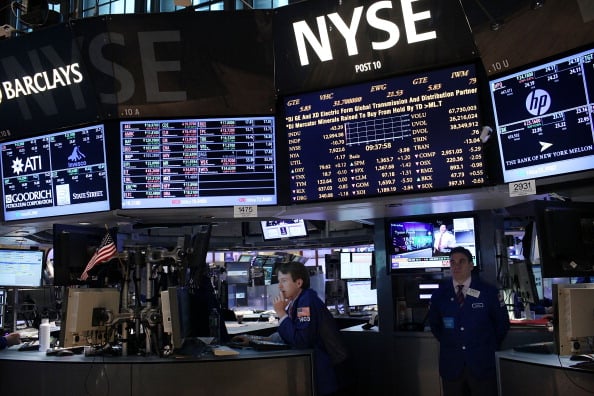 A market consists of buyers and sellers coming together in order to facilitate an exchange of goods or services. One of the most famous examples is the stock market, where shares of companies are traded on a daily basis as prices fluctuate, enticing participants to make a deal. However, with major indexes near record highs, who are the buyers and sellers?
Out of six major groups of investors, only two are net buyers: companies and individuals. After reducing purchases during the depths of the financial crisis, companies are now the biggest buyers of stocks, according to a new analysis by LPL Financial Research using data from FactSet. During the first quarter of 2014, S&P 500 companies bought approximately $160 billion worth of shares, representing the second-biggest quarterly haul in history. The record stands at $172 billion set in the third quarter of 2007, shortly before the worst financial downturn since the Great Depression.
"Corporations have been decreasing the amount of shares in the market for 10 straight quarters. Over the past year, this has amounted to about 3 percent of shares outstanding in the S&P 500," said Jeffrey Kleintop, chief market strategist at LPL Financial. "Corporations have become net buyers of shares as rising cash flow and wide profit margins compel them to shrink their share count to boost earnings per share, as revenue growth has been sluggish."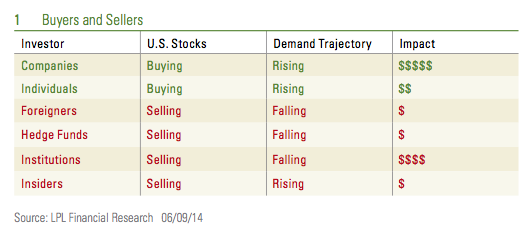 Individuals have been more stubborn when it comes to buying stocks. In 2011 and 2012, they sold more stock than they did during 2008 and 2009. However, individual investors have been net buyers of stock over the past year as the major indexes continue to make new all-time highs. Much like share repurchases by corporations, this can be an alarming sign, as individuals are known to arrive late to the party. Exactly how late they arrived to the current party is still to be determined.
While companies and individuals continue to purchase stocks, other types of investors — such as foreigners, hedge funds, institutions, and insiders — are all net sellers. Selling by foreigners is due to "waning" demand from European investors, while hedge funds have been net sellers for most of the past year, with the pace increasing in recent months. In general, institutions are considered to be insurance companies and pension funds. Insurance firms are actually buyers, but pension funds are sellers as they rebalance their portfolios away from stocks to bonds, which is quite normal.
Insiders are perhaps the most controversial category of sellers. They are typically considered to have valuable knowledge, but history says otherwise. "Corporate insiders were buying in 2007 at the peak, and they were selling in 2009 as stocks were bottoming. Back in August of 2007, around the peak of the stock market, insiders at financial companies were doing the most buying in 12 years," said Kleintop. "At the time, this trend was interpreted by some as a buy signal for financials just before the companies in this sector saw their stocks fall more than 80 percent. Given this track record, we do not interpret the insider selling as a signal that they are acting on any inside information that would benefit an individual investor."
More From Wall St. Cheat Sheet:
Follow Eric on Twitter @Mr_Eric_WSCS