Why Amazon is Threatening the State of California
This morning reps. from Amazon (NASDAQ:AMZN) said that the company will cut ties with its California-based affiliates due to a new state law that taxes online retailers, set to go into effect tomorrow. Republican Tax Commissioner George Runner has spoken out against the bill, saying "thousands of affiliates across California were losing their jobs [as a result of actions by Amazon and others]." Gov. Jerry Brown signed the bill into state law yesterday, following nine other states to have passed similar legislation in 2011. The online sales tax allows government to tax sales of e-retailers that have affiliate companies in-state. Amazon's "Kindle" plant in Cupertino, CA, operated by affiliate A2Z Development Centers, is among the company's most concerning vulnerabilities to the new law.
The state government believes revenue from the new law will help California surmount a growing budget deficit, with estimates that it will bring in additional income of $200 million per year. Gov. Brown said of the law, "[it's] a common-sense idea," to tax e-commerce business the same as regular retail outfits, though reps. of Amazon and in-state affiliates see the change as concerning. The company wrote to its Cali-based affiliates, "We oppose this bill because it is unconstitutional and counterproductive," with Global Policy VP Paul Miesner adding, "This legislation is counterproductive and will not cause our retail business to collect sales tax for the state."
Don't Miss Wall St. Cheat Sheet's newest Feature Trades of the Month!
Amazon (NASDAQ:AMZN) plans to challenge the constitutionality of the law, which nimbly works around a 1992 supreme court ruling that states cannot tax companies that don't have a physical in state presence. Meanwhile, affiliates of Amazon, which profit by directing sales and internet traffic to the website and company products, are set to migrate to new territory. Loren Bendele, chief executive of Savings.com, a large affiliate, says, "We have to consider it [leaving California], It does not look good for our business." Another affiliate that runs a photo website in San Diego adds, "Will it be Las Vegas or Scottsdale or Ensenada? It's a question of where, not if."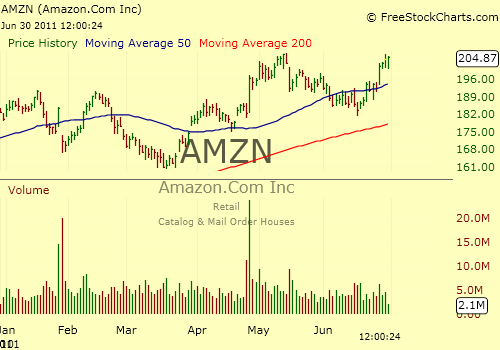 Amazon had challenged similar legislation in New York but lost the case, though substantial differences in the California state law may give the company fodder to mount a stronger argument this time around.
Competitors to Watch: eBay Inc. (NASDAQ:EBAY), Overstock.com, Inc. (NASDAQ:OSTK), Wal-Mart Stores, Inc. (NYSE:WMT), Google Inc. (NASDAQ:GOOG), Barnes & Noble, Inc. (NYSE:BKS), Costco Wholesale Corp. (NASDAQ:COST), Best Buy Co., Inc. (NYSE:BBY), OverStock.com (NASDAQ:OSTK), HSN (NASDAQ:HSNI), PC Mall, Inc. (NASDAQ:MALL), Target (NYSE:TGT) and Apple Inc. (NASDAQ:AAPL).
Don't Miss Wall St. Cheat Sheet's newest Feature Trades of the Month!