Why Are American Investors Feeling So Bullish?
With an increasing amount of economic data suggesting that the United States economy has slowed in recent weeks, one would expect investors to feel slightly less bullish. But, according to TD Ameritrade's Investor Movement Index, numbers indicate that April maintained an overall bullish trend.
For the five weeks ending April 26, 2013, the index gave a reading of 5.31, compared to March's near-term high of 5.37. This index has not been normalized or indexed to a specific year, so scores should be viewed in the context of historic ranges and recent trends. In relation to historic ranges, April's score is high; in fact, it was the fifth highest reading in the IMX's approximate three-year history. Despite the slight decline from March, April's numbers still indicate an overall bullish trend, meaning that Ameritrade's clients are maintaining significant market exposure.
Broad market volatility increased last month, but Ameritrade's clients bought into the market downturn. "April's IMX score proves our retail investors weren't swayed by the volatility we saw in April," Nicole Sherrod, managing director of TD Ameritrade's Trader Group, said in the accompanying press release. "They bought into the dips and remain overall bullish."
U.S. stocks are in their fifth year of a bull market; better-than-expected corporate earnings  and three rounds of bond purchases by the Federal Reserve have driven the S&P 500 up 139 percent from a 12-year low in March 2009. This benchmark equity gauge traded above 1,600 for the first time last week, while the Dow Jones Industrial Average briefly topped 15,000 on May 3. Berkshire Hathaway's Chairman and Chief Executive Warren Buffet believes this is a positive indicator. "What we see is a slow progress in the American economy," he said at the company's May 4 shareholders meeting, according to Bloomberg. "We'll move forward but I don't think we'll be in any surge of any sort, but I don't think we'll stall either."
Wall Street examines the data provided by Ameritrade — one of the largest online brokerage firms in the U.S. — for insight into the mood, sentiment, and behavior of retail investors. To compile this index, the firm gathers data from an anonymous sample of its six million funded accounts, including a wide variety of investors of different ages and with differing account sizes and experience levels. In particular, the index measures the level of exposure of Retail Investor Portfolios to the U.S. equity market.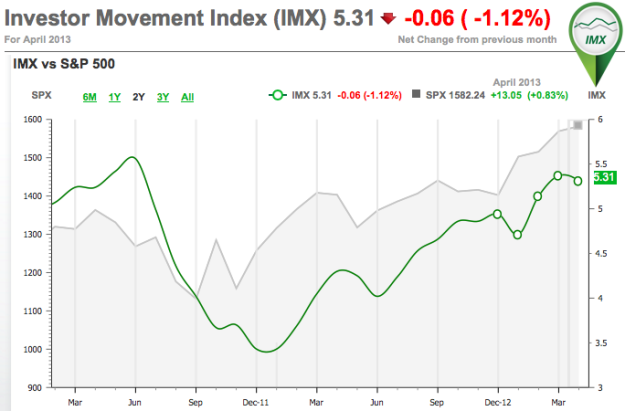 Here's how the market traded Monday: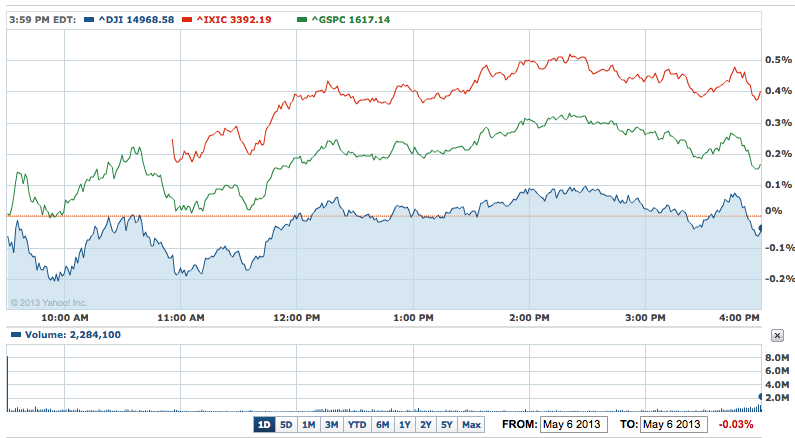 Don't Miss: Does the Fed Keep Warren Buffett Up at Night?