Why Investing in Professional Athletes is a Bad Call
A new company banks on investors like you being willing to put up cash in hopes of a return from "the value and performance of an athlete's brand." Should you consider rolling the dice?
Fantex promises fans a chance to invest in their favorite professional athletes. Only football players participate for now; the company plans to add athletes in other sports in the future.
Fantasy sports are almost as popular as their real-world counterparts. The Fantasy Sports Trade Association reports that more than 41 million people participate in fantasy sports in the U.S. and Canada alone.
A special exception for fantasy sports baked into the main law governing online gambling means that fantasy sports are legally considered games of skill rather than of luck, and sites such as FanDuel and DraftDay lawfully pay cash prizes for successful fantasy play.
Treating fans' predictions of player performance as a matter of investment and not gaming, Fantex, with its affiliated brokerage, tries to differentiate itself from fantasy sports. Yet while Fantex bills itself as "a real-money marketplace" and uses investing language to characterize opportunities – for instance, new players, or "brands," have initial public offerings – buying Fantex shares still more closely resembles gambling than investing.
For pro football players with high earnings potential but who will likely play an extremely short career, Fantex takes some risk off the table. Athletes get an initial payout against earnings they may or may not collect. However, that risk doesn't magically go away. It is transferred to the players' investors.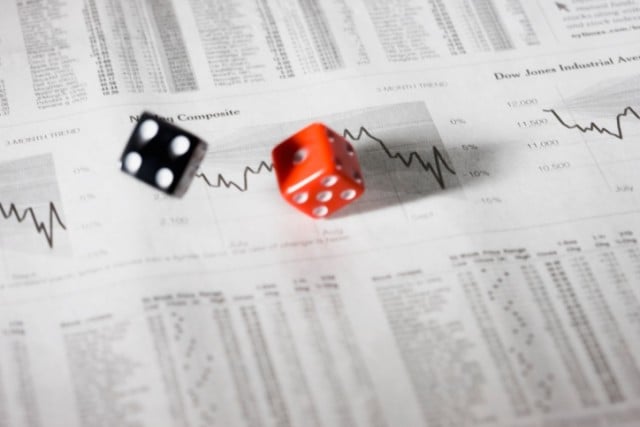 Many investors complain that scrutiny in the public stock market often forces a company's management to focus on quarterly earnings targets to the detriment of that company's long-term health. Falling short of investors' expectations can send a company's stock plummeting. Similarly, a pro football player's weekly statistics are like quarterly earnings reports – on steroids.
Players' values can see wild swings. Consider EJ Manuel, a top National Football League draft pick in 2013. Despite the first-rounder's subpar rookie season, the Buffalo Bills initially named Manuel the starting quarterback for 2014, signaling confidence. At the end of September, though, the Bills benched Manuel.
Before the announcement, Manuel's Fantex stock hit $9.60 per share – close to its IPO price – only to fall to $5 after the announcement. Recently, the stock trended even lower.
Evaluating a player does resemble evaluating a company before you buy shares: You think about a player or company's future earnings potential based on performance so far and on prospects that you base on demonstrated products or abilities. You also consider risks.
For instance, GT Advanced Technologies recently went bankrupt after Apple unveiled the iPhone 6 with no mention of the sapphire screen that GT was poised to manufacture. The announcement shocked investors and GT faces a class-action lawsuit from shareholders who claim the company misrepresented its financial position. The makeup of a team can likewise influence a player's career, often in ways beyond his control.
Players, like companies, run reputational risk. Think of the NFL's Ray Rice or Adrian Peterson, two recent examples of off-field conduct hurting a player's career and his potential earnings. Similarly, McDonald's "pink slime" controversy, the Tylenol scandal  of the 1980s and the General Motors ignition switch recall earlier this year all had huge potential to damage profits.
Perhaps most concerning before you put money in Fantex is the liquidity risk associated with a player's stock. Even if you theorize that your stock is worth millions, there may be no robust market to trade. Most likely, you will either take a large haircut to unload your shares or they will just languish in the market. You also cannot buy or sell Fantex's tracking stocks except on Fantex's website – meaning that unless the company attracts enough buyers and sellers, you will probably find selling shares difficult.
Oh, and so far Fantex's platform averages fewer than 50 shares of player stock changing hands daily.
This deal deteriorates the more you review it:
You not only bet on the player, but also commit to an investment tied heavily to the success of Fantex the company, its ability to collect on players' contracts and attract more users and traders to its platform. Fantex has no right to require its contracted athletes to take any actions to attract, maintain or otherwise generate brand income.
Participating athletes do have to file a quarterly financial report detailing income. But the brand contracts come with several exclusions regarding what kind of income counts for the site's purposes; in most cases, the earnings must be sports-related. If EJ Manuel makes a billion dollars in real estate while sitting on the Bills sideline, that money may not constitute income payable to Fantex or to holders of his stock.
Fantex can refuse to pay players' shareholders. The tracking stocks are a series of Fantex's common company stock, meaning the equities face risks associated with the entire company. Fantex has the right to use assets of one successful tracking stock to pay another stock's liabilities.
The board of directors can also elect to convert the player stocks into company common shares after a set period, generally two years. Nor do the directors have any obligation to pass on earnings as dividends. Fantex has paid dividends, but those payouts might evaporate at any time, even if the company prospers.
Fantex's offerings appear to be a bad bet for everyone, except perhaps the athletes who can secure big upfront paydays. Many fantasy owners may see Fantex as their opportunity to test their skills in the real world, but they would be much better off letting the Jerry Joneses of the world gamble on players.
Follow AdviceIQ on Twitter at @adviceiq.
Written by ReKeithen Miller, CFP, EA. ReKeithen Miller is a portfolio manager in the Atlanta office of Palisades Hudson Financial Group LLC, Scarsdale, N.Y.
AdviceIQ delivers quality personal finance articles by both financial advisors and AdviceIQ editors. It ranks advisors in your area by specialty, including small businesses, doctors and clients of modest means, for example. Those with the biggest number of clients in a given specialty rank the highest. AdviceIQ also vets ranked advisors so only those with pristine regulatory histories can participate. AdviceIQ was launched Jan. 9, 2012, by veteran Wall Street executives, editors and technologists. Right now, investors may see many advisor rankings, although in some areas only a few are ranked. Check back often as thousands of advisors are undergoing AdviceIQ screening. New advisors appear in rankings daily.