Why Is BHP Being Accused of Bribery and Price Manipulation?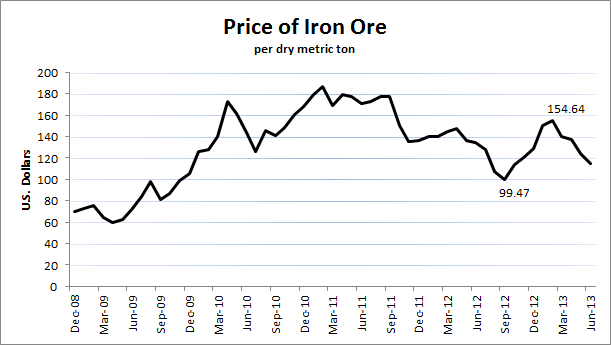 Historically, as much as 80 percent of iron ore was traded directly between miners and users, according to a report from Mining Journal. For a long time, this trade was focused around the United States and Europe, but beginning in the late 1980s, demand for iron ore from Japanese steelmakers became so great that the locus of control for the market shifted to Asia.
Negotiations between the world's three major producers of iron ore — Australian-based BHP Billiton (NYSE:BHP), British-Australian Rio Tinto Group (NYSE:RIO), and Brazilian multinational Vale S.A. (NYSE:VALE) — and companies like Nippon Steel Corp. began to set the tone for prices around the world.
But come the 2000s, the Japanese economy was generally stagnating and China, with seemingly insatiable demand and limitless economic growth potential, became the new magnate for iron ore producers. The emergence of Shanghai Baosteel Group Corp., a state-owned steelmaker and one of the largest in the world, helped make China's voice in price negotiations not just heard but dominant.
Up until this point, iron ore prices were fairly slow to change, with prices shifting only after long negotiations. However, in 2008, there were two major developments that helped define the current iron ore prices and the way iron ore is priced.
The first is that diverging shipping costs for iron ore being consumed by China emerged between BHP Billiton and Vale. In 2008, the two companies arrived at a different settlement based on a freight differential of about $55 per ton, based primarily on the cost of shipping. This fueled a movement to include the cost of shipping in pricing contracts, but this premise — curated through the centralized negotiation process (Baosteel, i.e., the Chinese government, was the sole point of contact between the nation and the market) — pretty much collapsed during the global financial crisis.
The Chinese government eventually decided to allow iron ore users to negotiate prices directly with mining companies, removing the bottleneck. This led to what was effectively a revolution in the iron ore pricing mechanism. Instead of long-term contracts dictating the movements of the market, companies like BHP Billiton were able to push for shorter-term quarterly and even monthly contracts.
This helped pave the way for the creation of a swaps and options market, and the rest is history. Market signals based on supply and demand — instead of tedious and often closed-door negotiations — now set the price of iron ore. Financial institutions like Credit Suisse (NYSE:CS) and Deutsche Bank (NYSE:DB) opened over-the-counter swaps markets in 2008, and now a number of clearing houses and financial exchanges handle iron-ore derivatives.
Earlier this year, iron ore producers were accused by China of market manipulation and driving up prices as much as 80 percent over a six-month period. As part of the manipulation accusation, China's national planning agency stated that the world's three largest mining companies have delayed shipments and, along with the help of some traders, held back stocks in order "to send a fake market signal that there was a supply shortage," Mining Journal writes.
Given that iron ore index prices are set by spot market trades, producers and steel mills use the index as a benchmark for pricing monthly and quarterly supply contracts. Since the spot iron ore price hit three-year lows in September, it has almost doubled in value by February, reaching a 16-month high of $158.90 per ton.
Separately, the U.S. Department of Justice and the Australian Federal Police are looking into accusations that BHP Billiton — the world's third-largest producer of iron ore — provided inducements, hospitality and gifts (i.e., bribes) to foreign officials, notably Chinese, during the Beijing Olympics in 2008. BHP supplied the materials for gold, silver, and bronze medals used in Beijing, and was a sponsor of the event.
Fairfax Media, of Australia, reported that between 2000 and 2008, BHP spent millions of dollars on a major Olympics sponsorship deal and hospitality package. According to a former China staffer, the package involved more than 170 VIPs including senior government officials and Chinese steel and mineral company executives. However, instead of being aimed at consumers, BHP's sponsorship was targeted mostly at its close circle of Chinese buyers and employees, Reuters reports.
On Friday, BHP released a statement saying that the Securities and Exchange Commission and the Department of Justice had notified the company that it may be facing anti-corruption action.
"As a part of the US process, the SEC and DOJ have recently notified the Group of the issues they consider could form the basis of enforcement actions and discussions are continuing," BHP said. "The issues relate primarily to matters in connection with previously terminated exploration and development efforts, as well as hospitality provided as part of the Company's sponsorship of the 2008 Beijing Olympics."
BHP has performed poorly this year to date, but much of its problems are due to economic headwinds that have also affected its competitors.

Don't Miss: GE Pushes Renewable Energy Abroad with This Move.