Why is Oil Having a Field Day?
Fuel prices in the US edged 1.1 cents lower last week to $3.45 per gallon.  However, that's still 22% higher than the old record for this time of year, set in 2007.  There has been speculation that the death of Gaddafi would help ease oil prices, but this has not been the case.  Patrick DeHaan, the Senior Petroleum Analyst at GasBuddy.com said, "While the volatility (NYSE:VXX) in prices is all but guaranteed, the direction in which prices travel is less clear, even after the death of Gaddafi.  Many Americans believe his death will mean a drop in oil prices, but I just don't see it happening."
On Monday, oil (NYSE:USO) jumped more than 4% to cross the significant $90 resistance level.  In fact, for the first time since May 2011, December 2011 futures for WTI oil are trading at a higher price than the December 2012 futures.  When spot prices trade higher than future prices, it is known as backwardation, and may be seen as an inflation indicator.  In addition to a falling US dollar (NYSE:UUP), oil may be receiving a boost from an increasing amount of Fed chatter.  William Dudley, president of the NY Federal Reserve announced that QE3 is a possibility.  Dudley explained, "Clearly we've indicated our interest in supporting the housing market in keeping mortgage rate spreads, and spreads between mortgage rates and Treasury yields, from getting too elevated.  Depending on how the world evolves, we potentially could more to do more in that direction."  This leads many, including myself, to believe that QE3 will focus on mortgage-backed-securities.
Investor Insight: Does Caterpillar Build A Bullish Scenario for Gold & Silver?
Oil prices also received a boost from stronger than expected economic numbers.  Caterpillar (NYSE:CAT), a global construction and mining company, reported a 44% rise in net income for the third quarter.  The company helped to dampen global slowdown fears by saying, "This was the best quarter for sales in our history, and our order backlog is at an all-time high."  Furthermore, China's (NYSE:FXI) manufacturing sector expanded in October, snapping three months of contraction, according to the HSBC (NYSE:HBC) purchasing managers' index.  Christophe Barret from Credit Agricole said, "The Chinese PMI number is better than expected and that is one of the main reasons for the rise."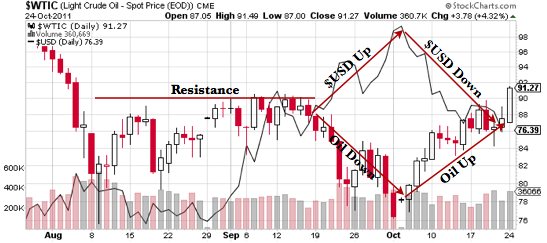 Despite the recent surge in oil prices, oil giants such as Exxon Mobil (NYSE:XOM), Chevron Corp. (NYSE:CVX), and BP (NYSE:BP) did not see a surge in share prices.  XOM edged .05% higher, CVX closed .70% higher, and BP finished the day 1.2% lower.  Funds designed to track the price oil through the futures market were the best performers in the industry on Monday.  The United States Oil (NYSE:USO) fund closed 4.46% higher, while the ProShares Ultra DJ-UBS Crude Oil (NYSE:UCO) gained more than 8%.
As the chart above shows, oil has been trading inversely of the US dollar.  We have been warning our premium subscribers about a coming decline in the US dollar and how to play it with commodities.  In our October 17 edition, we warned that the dollar index broke a critical support level, and a return to the 73-76 range was in store for the dollar.  Over the past week, the dollar has fallen and reached the top part of our range on Monday.  For investors seeking more detailed professional analysis on oil and other commodities (NYSE:RJI), we invite you to try our premium service free for 14 days.