Why is SINA Getting Slammed Right Now?
SINA Corporation, (NASDAQ:SINA) a US-based company that provides MVAS (Mobile Value-Added Service) operations and online media hosting in China (NYSE:FXI), has seen shares fall almost 4.5% in trading today, continuing a month long slump for the company that has seen share values drop some 20% The news comes surprisingly, as the company's projections were upgraded today by analysts at Gradient.
So why the drop off in share value?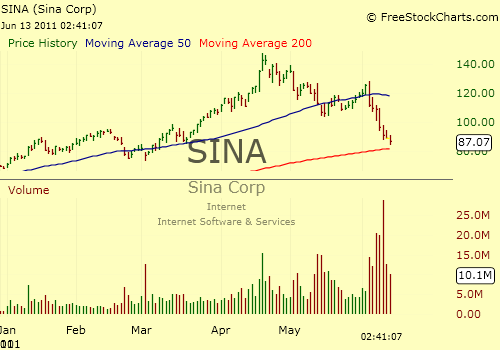 SINA's optimistic projections may be subject to investor overlook as part of a negative sector syndrome for China stocks today. Competitors SOHU (NASDAQ:SOHU) and Baidu (NASDAQ:BIDU) have likewise seen significant drop-offs in trading today, with the stocks down 1.5 and 1.3 percent respectively. RenRen (NYSE:RENN), the "Facebook of China," the source of a less than stellar recent IPO, has also been hard hit today (shares down 10%) as Deutche Bank (NYSE:DB) analysts downgrade their projections on the stock to hold, at a price 40% below the value of the IPO!
The sell-offs may be momentum based, as a slew of bad news on the China front hit markets early today. Among the headlines were reports of riots in the southern town of Zhencheng where government buildings were set on fire, as well as news that China's money supply growth fell short of expectations in May. The sell-off in China stocks could serve as a nice opening for the sly investor to buy-low into some promising companies with solid foundations in lead emerging markets.
Our New Stock Picks are Here: Check Out Wall St. Cheat Sheet's newest Feature Trades of the Month.