Why Selling Luxury Paper Towels Is Working for Proctor & Gamble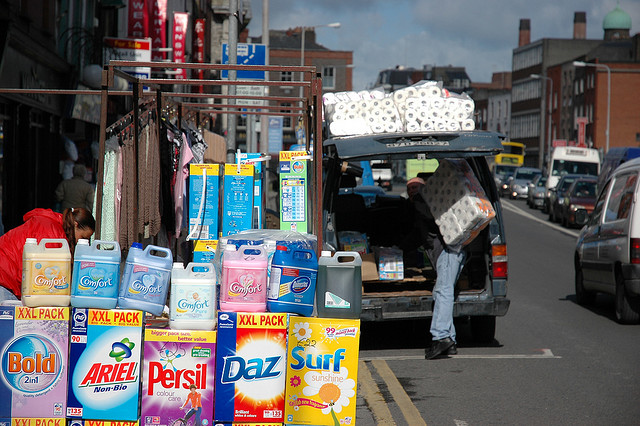 Proctor & Gamble (NYSE:PG) reported earnings on Friday that beat expectations despite being hurt by currency exchange rates, and a report from Bloomberg Businessweek reveals the strategy behind the company's success at selling cleaning products and other consumer goods.
In a move that may strike some as strange, Proctor & Gamble has seen great success with its high-end offerings that include paper towels, tampons, and dish soap. Businessweek pointed out that a three-tier approach — offering products at entry-level, mid-tier, and luxury options and prices — works for other types of companies, and Proctor & Gamble has managed to replicate that success.
While Proctor & Gamble brands like Bounty, Cascade, and Tampax used to offer just one or two options, the company is now spending money and time on promoting high-end versions of the products. These choices offer huge earnings potential, as certain customers are apparently willing to pay double the price for a premium paper towel instead of the entry-level option.
One way this works is by stocking luxury options on a shelf away from other options, so that those looking for a more expensive paper towel won't even see Bounty's other, less expensive options.
While the company must be cautious about potential luxury buyers opting for a mid-tier option if they see it, it's been found that customers are more likely to buy the mid-tier product over the entry-level one if they see that a third luxury option is available. Naming the low-end option something undesirable, like the entry-level Tampax option called Cardboard, can also help push consumers to trade up.
The strategy has been in play for just 18 months, but P&G is already seeing results. The company's first-quarter 2014 profit rose 7.6 percent to $3 billion year over year, and sales rose 2.2 percent to $21.2 billion in the same period. Specifically, organic sales for Fabric Care and Home Care and Baby, Feminine, and Family Care both increased 6 percent during the period.
Follow Jacqueline on Twitter @Jacqui_WSCS
Don't Miss: Burger King Didn't Deliver a Whopper in the Third-Quarter.