Why SINA is Rolling Today
Sina Corporation (NASDAQ:SINA) is among the Nasdaq's top gainers today as shares continue to push higher, currently trading up 4.59%. Why the sudden surge in SINA? The company, which owns and runs China's 3rd most trafficked website that operates a service similar to twitter, was upgraded this morning by analysts at Goldman Sachs (NYSE:GS). The analysts revised their outlook on Sina Corp. from sell to neutral, and maintained a target price of $87 per share. After surging through April and May of this year, when share prices topped $142, SINA has since seen a swift regression, gradually sifting down towards current levels of $93.45 per share. The stock continues to move with a high degree of volatility, posting a 52 week high-low of $34.26-147.12.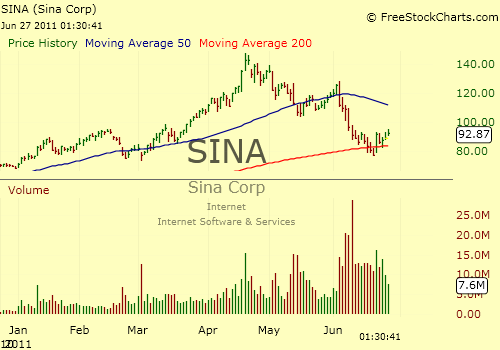 Competitors to Watch: Sohu.com Inc. (NASDAQ:SOHU), Baidu.com, Inc. (NASDAQ:BIDU), Google Inc. (NASDAQ:GOOG), Yahoo! Inc. (NASDAQ:YHOO), NetEase.com, Inc. (NASDAQ:NTES), Youku.com Inc (NYSE:YOKU), Shanda Interactive Entertainment Ltd ADR (NASDAQ:SNDA), Rediff.com India Ltd. (NASDAQ:REDF), and AOL, Inc. (NYSE:AOL)
Also read: Why Are SINA Shares On Fire?>>
Don't Miss: Wall St. Cheat Sheet's newest Feature Trades of the Month!