Why Starbucks is a Screaming Buy and 3 Other Hot Stocks
OptionMonster's Jon Najarian is calling Starbucks (NASDAQ:SBUX) a screaming Buy because the price of Arabica coffee beans, a key input, have halved after reaching a peak in May of 2011. Pointing out that coffee prices per cup at the coffee chain have not dropped, he says Starbucks is gaining a margin advantage because its sourcing program allows it to raise prices when coffee bean prices are rising, but not in the reverse case. This allows the company to do well in both rising and falling coffee markets. The average investor may not realise the implications because, "rising commodity prices get front page treatment, but price drops are printed near the obits."

Diageo (NYSE:DEO) plans to market its Shuijingfang white spirit, a sorghum based liquor also known as baijiu, to new markets outside the traditional Chinese market such as Italy, Spain, and the Middle East. The drink will be targeted at Chinese settled overseas or travelling abroad. The drink goes well with Chinese food and is commonly used as an expensive gift and served at lavish banquets. Prices in China have fallen recently because of the government's austerity drive among government officials. Baijiu is made in China by Diageo's Sichuan Swellfun Co. unit. Non-Chinese may need to cultivate a taste for the drink, but it could sell well abroad to the estimated 50 million people of Chinese origin who live outside China.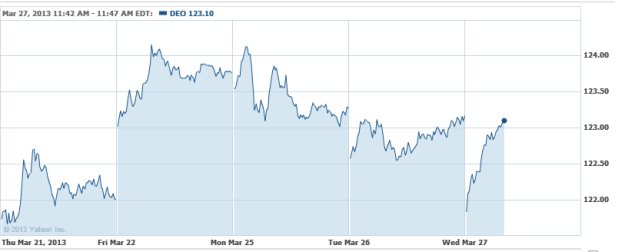 Chelsea Therapeutics International (NASDAQ:CHTP) is trading over 14 percent higher at $2.10 after an article in a prominent financial website draws attention to improving prospects for company after the FDA indicated in February that the company could resubmit its Northera drug for approval based on its earlier "Study 306B" data. Though shares vaulted after that news, they have been currently consolidating and could make a fresh move higher according to the article. This development gives confidence to the author that the company would likely receive an approval for the drug in late 2013 or first quarter 2014. The company should be resubmitting the drug for approval in the second quarter.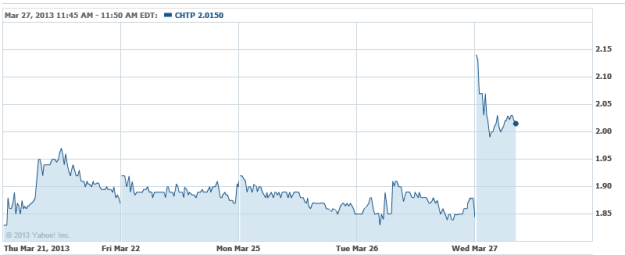 Ford Motor (NYSE:F) is recalling 2537 of its 2012 Ford Taurus sedans, 968 of its 2012 Lincoln MKS sedans and 30 of its 2013 Ford Explorer SUVs because their fuel tanks could leak during an accident. Though no accidents or injuries have been reported as a result of these potentially leaky fuel tanks, the company is recalling these vehicles for checking by dealers and replacement of the tank if necessary free of cost.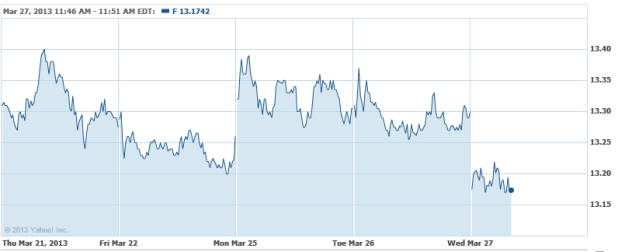 Investing Insights: Is FedEx Stock Gaining Ground?