Why Wal-Mart, Coca-Cola and McDonald's Took a Rollercoaster Ride This Week
The Coca-Cola Company (NYSE:KO): Closing Price $42.66
Coke posted a smaller-than-anticipated decline in first-quarter profit on Tuesday, and said that world volumes improved in major developed markets such as the United States and Japan. Meanwhile, Coca-Cola reported it is selling some territory held by its company-operated bottling system to five independent bottlers, through which to streamline the business and focus upon "expanded territories." Coca-Cola reported a quarterly net income on Tuesday of $1.75 billion, or 39 cents a share, which was down by 15 percent when compared year-over-year with $2.05 billion, or 45 cents. However, excluding one-time items, the beverage king said it earned 46 cents, surpassing average analyst estimates in a Thomson Reuters poll by one cent.
Coke has announced the debut of Caffeine Free Coke Zero for consumers who like to have a taste later in the day. This new product will be available for sale from mid July and will come in packs of 12 cans and 2-liter bottles. While Coke Zero is a very successful brand, bringing around $1 billion in worldwide revenues, an increasing demand for caffeine free products is evident. Caffeine Free Coke Zero will afford consumers the option to enjoy the beverage without worries about calories or caffeine intake.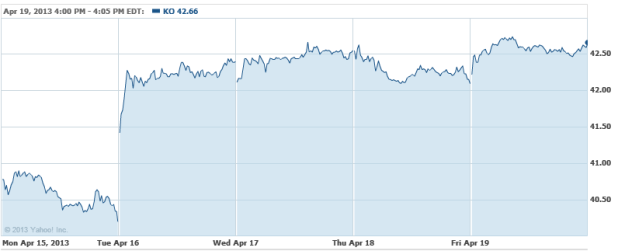 Don't Miss: Is Microsoft Really Dissing Google and Apple?
McDonald's Corporation (NYSE:MCD): Current price $99.93
McDonald's business in Japan is hiking some prices by up to  25 percent in May, marking the chain's first increase on burgers there since 2008. Prices for hamburgers will rise to 120 yen from 100 yen, and cheeseburgers will go to to 150 yen from 120 yen, according to a statement released by McDonald's Holdings Co. Japan on Thursday, which related that the increases are part of its plan to boost profitability, following the Japanese division posting a 12 percent drop in operating profit in 2012.
In results for the first quarter, the top hamburger chain on earth reported that it had failed to improve  sales with its Dollar Menu, even though it did generate a higher quarterly profit overall. On Friday, McDonald's reported that an important sales metric dropped by 1 percent during the period, and it also warned that it is expected to slide once again in April. The results represented the first quarterly decline in ten years in sales at restaurants that have been open at least 13 months and reflected the troubles the firm has been facing.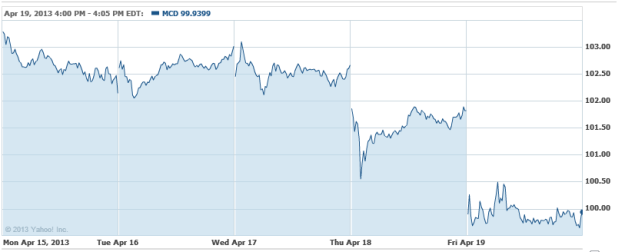 Investing Insights: Is Clorox Still a Safe Investment?
Wal-Mart Stores (NYSE:WMT): Current price $78.31
Shares dropped the most on Thursday in two months after a Detwiler Fenton group analyst said that grocery and apparel sales could be weak. At 12:10 in New York, shares were down by 1.9 percent to $77.02, and had earlier slid up to 2.4 percent for their largest intraday decline since Feb. 15. Wal-Mart had gained 15 percent thus far in 2013 through Wednesday, versus an 8.8 percent increase for the Standard & Poor's 500 Index. The cause might be that analysts said Thursday in a note that they are detecting signs of deteriorating sales of perishable goods at stores, implying that the retailer's grocery business may be stalling.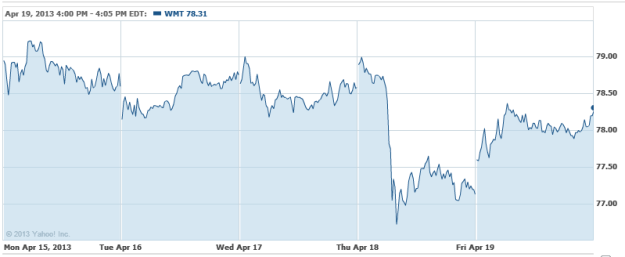 Don't Miss: Did These Numbers Scare Blackstone Away From Dell?