Why Yahoo's Bid for Tumblr is Genius
The Marissa Mayer era at Yahoo (NASDAQ:YHOO) has been a windfall for investors. The stock is up 68% since Mayer took over as CEO and began remaking Yahoo in her — meaning, Google's (NASDAQ:GOOG) — image. Now, the next-gen executive is aggressively addressing some easier wins with a brilliant move to prospectively acquire David Karp's Tumblr.
Marissa Mayer's strategy has been simple: reposition Yahoo as a tech company focused on the largest market opportunities for the next decade. However, along the way, Mayer still must appease Wall Street's insatiable appetite for super-short-term quarterly earnings. Consequently, while the C-Suite stewards Yahoo's ship toward longer-term glory, this quarter they must address the shortfall obsessing analysts: ad inventory.
NEW! Discover a new stock idea each week for less than the cost of 1 trade. CLICK HERE for your Weekly Stock Cheat Sheets NOW!
All Wall Street cares about is generating cold, hard cash. In the current case, Yahoo is in a prized position because demand for ad inventory is outstripping supply. However, no one wants to see cash left on the table. Hence the genius move to acquire Tumblr.
Acquiring Tumblr immediately brings a massive, growing block of ad inventory online at Yahoo. BOOM!
Here's how it works…
Ad Sales calls back to headquarters and asks, "Homies, can I get another 100 million page views for a campaign with [insert advertiser name here]?" Ad Operations then responds, "Aye-aye, captain. I can serve you those page views from our sparkling new Tumblr inventory." (It's a bit more complicated insofar as targeting, etc., but you get the point.)
Then, Mayer calls up the analyst firms covering Yahoo's stock and says, "Oh, great Masters of the Universe, we are now able to monetize our surplus advertising demand." Voila! Stock pops for shareholder nation.
Much digital ink will be spilled over whether Tumblr is a good fit for Yahoo. Don't waste your time focusing on academic theories. This is an incredibly savvy business deal which haters won't understand until long after Tumblr's inventory has been sold to the highest bidder — whom, by the way, is already waiting in line with a blank check.
At the moment, a Tumblr acquisition has not yet been announced. In fact, Facebook and Microsoft may also be in the race (well, at least Tumblr's bankers want Yahoo to think so).
Tumblr isn't the only huge move on Yahoo's plate. Check out why Mayer is also looking to disconnect Yahoo search from Microsoft.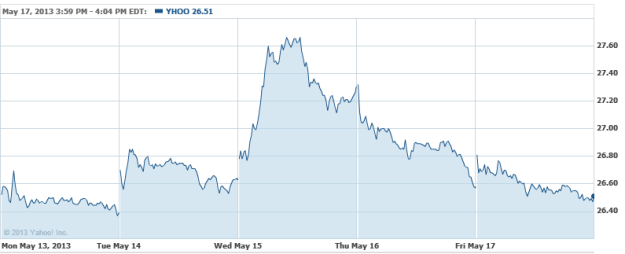 Don't Miss: Is Amazon Guilty of Exploiting the British Tax Rulebook?