Will a Boycott Cast a Dark Cloud Over Wal-Mart's Black Friday?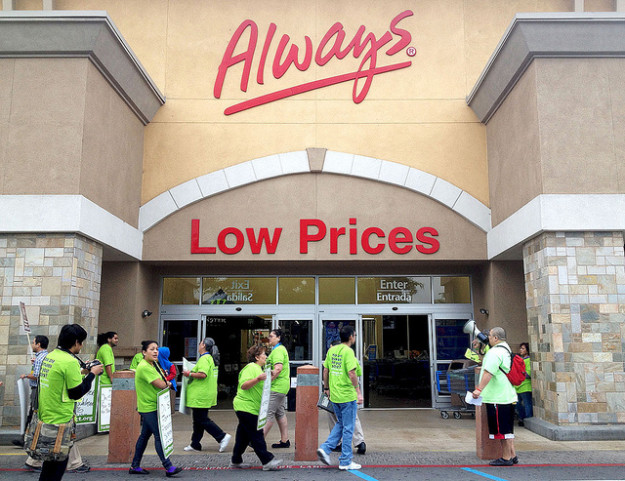 Wal-Mart Stores (NYSE:WMT) is gearing up for what the company deems its annual Super Bowl, but unfortunately for the retailer, some shoppers are already preparing, too — and not in ways that Wal-Mart might like.
According to KTVU, consumer activists are currently planning a national boycott campaign against Wal-Mart stores starting Black Friday, the busiest shopping day of the year, and supporters hope that the boycott will help encourage the retailer to pay its workers a more livable wage. Employees are reportedly paid an average of $8.80 an hour, and the meagerly wages have forced many workers to require food stamps and other government assistance in order to simply get by.
Wal-Mart has long come under fire from critics who charge that the company offers unlivable pay rates and relies on taxy payers to support their employees, but the Bentonville, Arkansas-based company has especially been in the spotlight this year as more reports regarding its wage practices materialize, and it becomes clearer just how many employees are currently relying on government assistance to make ends meet. U.C. Berkeley Professor Robert Reich supports the Wal-Mart boycott because he believes the retailer's low wages are costing taxpayers, and he explains, "The rest of us in terms of paying our taxes so people can be on food stamps and Medicaid, we are in effect subsidizing Wal-Mart so that Wal-Mart doesn't have to pay a living wage to its employees." Reich believes the movement will help Wal-Mart get the message.
The company has issued no statement in response to the rumored boycott, but instead continues to maintain its plan of opening at 6 p.m. Thanksgiving night, with Black Friday deals starting as early as this week. Wal-Mart is certainly not unfamiliar with mass organizations and campaigns, as it suffered a similar strike last Black Friday when workers walked out on the job chanting "Stand Up! Live Better!" but for now, the retailer seems to be avoiding all talk of any possible storm as it prepares its stores for major crowds and jaw-dropping deals.
Wal-Mart has also been in the news this week after it was reported by the Plain Dealer that store managers at a Wal-Mart in Canton, Ohio are encouraging employees to participate in a food drive that will help provide for co-workers' Thanksgiving dinners. According to report, in the back room of a Wal-Mart in Ohio, co-workers are being urged to fill colored bins so their colleagues in need can enjoy a Thanksgiving dinner, and activists are now highlighting the food drive as only more proof that employees need to be paid more.
Nonetheless, the show will go on for Wal-Mart come 6 p.m. Thanksgiving evening, and we'll just have to wait and see how many line up to get in its stores, and how many line up to combat them.
Don't Miss: Just How Safe Are Wal-Mart's Garments Workers?