Will a Lowered Price Help Toyota's Prius Plug-In Fly?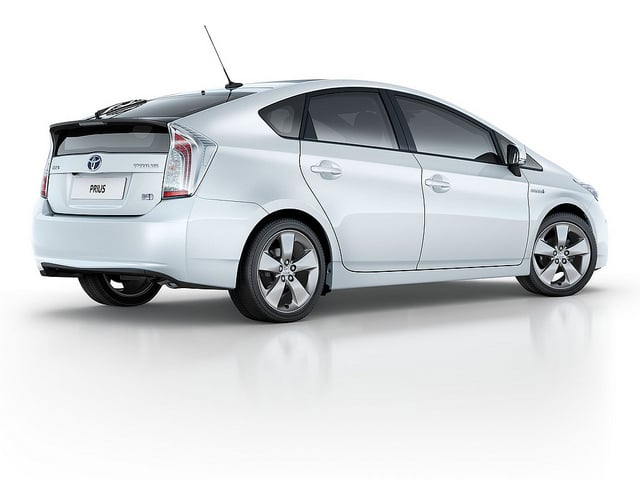 On the heels of a report that broke indicating that Honda (NYSE:HMC) was moving many times the number of hybrids that it was expecting to (the hybrid edition of the Fit, in Japan), Bloomberg is now reporting that Toyota (NYSE:TM), the undisputed king of the hybrid market, will be lowering the price of the Prius plug-in hybrid, to help spur sales here in the States.
At least, that's the primary goal. Plug-in vehicles, being fully electric or not, have largely seen dramatic price cuts to generate sales, and help make the cars more comparable to their gasoline-only counterparts. However, there's a secondary goal in Toyota's mind behind the lowered MSRPs, which is the strict California mandates on emissions, the same ones that spurred Honda to engineer an all-electric Fit.
Plug-in hybrids are a combination of electric vehicles (no gasoline engine whatsoever), and more conventional hybrids, which use a small internal combustion unit sparingly, coupled with a smaller electric powertrain. A plug-in hybrid can often run on electric power alone for several miles before the gasoline kicks in, making them sensible and practical vehicles for those who don't face long commutes, usually under 30 or so miles. Unfortunately, they tend to be more expensive.
Toyota's Prius plug-in will wear a price tag of $29,990 when it launches next month, $2,010 less than the comparable 2013 model. For the upper Advanced trim, the price will see a 12 percent reduction to $34,905. The vehicles are also eligible for a $2,500 tax credit due to their consumption and emissions status.
The company is facing mounting pressures in California in particular to sell as many battery powered cars in the state as possible to comply with the  Zero-Emission Vehicle program. Bloomberg reports that Toyota has the biggest share of auto sales in the state, and as a result must sell the most low-polluting models.
Toyota announced that it sold 12,750 of the plug-in vehicles in the U.S. last year, missing its initial goal of 15,000; deliveries through September totaled 7,974.
Don't Miss: Honda Aims at Toyota's Hybrid Empire.