Will a Release in the Emergency Oil Supply Really Help Oil Prices?
On Thursday, Reuters reported that the United States and Britain came to an agreement to release emergency oil stock reserves in an effort to prevent high gasoline prices from crippling the economy even further.
Reuters reports, "A formal request from the United States to the UK to join forces in a release of oil from government-controlled reserves is expected 'shortly' following a meeting on Wednesday in Washington between President Barack Obama and Prime Minister David Cameron, who discussed the issue, one source said."
Oil prices (NYSEARCA:USO) have remained elevated this year.  After dipping to $96 per barrel in early February, light sweet crude rebounded to as high as $110 in March.  Meanwhile, brent crude climbed above $127 per barrel.  On Wednesday, the average price for a gallon of gas at the pump was $3.81, which is 50 cents higher than a month ago.
Don't Miss: Is Google Still Searching for the Winning Formula?
After falling on the reserve release news, major oil players such as ConocoPhillips (NYSE:COP), Chevron Corp. (NYSE:CVX), ExxonMobil Corp. (NYSE:XOM) and BP (NYSE:BP) pared losses after U.S. officials and White House sources denied the reserves report and called it inaccurate.  Some analysts have speculated in recent weeks that oil reserves would be released due to high prices at the pump and the usual election year politics.  However, as the chart from The Big Picture shows below, a slight increase in crude supplies from strategic reserves have failed to stem longer-term price rises in oil.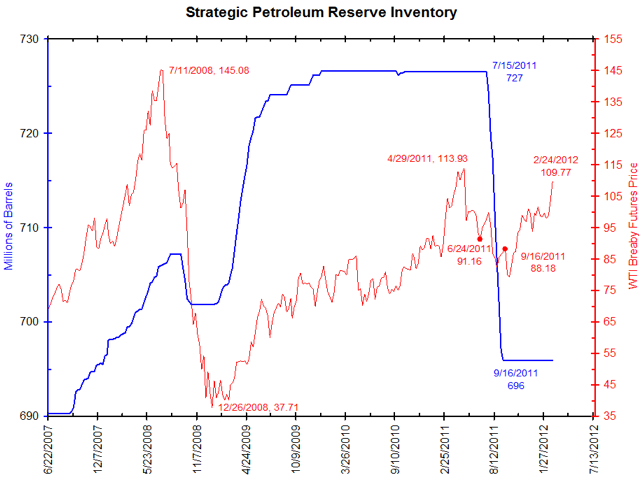 The previous announcement to release inventories from the Strategic Petroleum Reserve came last year on June 24.  The release totaled 60 million barrels globally and half of that came from the U.S.  At the time of the announcement, oil traded at $91 per barrel.  Oil increased to above $97 until the actual release of the reserves on July 15.  Even with the added oil supply, oil prices only fell to $88 per barrel by the time the emergency release was completed.  Since then, oil prices have found a firm footing above $100 per barrel.
According to the U.S. Energy Information Administration, the U.S. consumes about 19 million barrels of crude oil every day.  A 30 million barrel release was not even enough to cover our energy needs for two days.  World oil consumption is around 85 million barrels per day, meaning the previous total emergency release of 60 million barrels was not enough to cover just one day of world consumption.  Like before, another release from the Strategic Petroleum Reserve is not likely to have a large or long lasting impact on crude prices.
Investor Insight: Gold and Silver Dividends Are Getting Physical
If you would like to receive professional analysis on commodity investments and other ways to preserve your wealth, we invite you to try our premium service free for 14 days.
To contact the reporter on this story: Eric McWhinnie at staff.writers@wallstcheatsheet.com
To contact the editor responsible for this story: Damien Hoffman at editors@wallstcheatsheet.com