Will a Soft First Quarter Hold Wal-Mart Back?
Wal-Mart Stores (NYSE:WMT) stock fell as much as 2.3 percent in morning trading on Thursday after the retailer reported first-quarter earnings that fell short of analyst expectations. Revenue increased 1.0 percent on the year to $114.2 billion, missing the mean analyst estimate of $116.4 billion. Adjusted earnings increased 4.6 percent to $1.14 per share, missing the mean analyst estimate of $1.15 per share.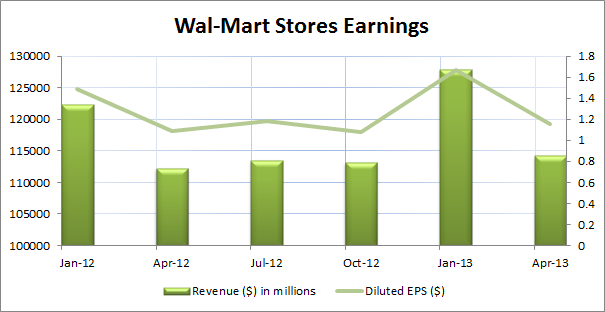 To be sure, the company's results are underwhelming. Comparable store sales in the United States declined 1.4 percent over the 13-week period ended April 26. President and CEO Mike Duke admits that that the store faced "a quarter marked by considerable headwinds to top line sales."
Wal-Mart was set up for a disappointing quarter from the very beginning of the year. In the middle of February, Jerry Murray, VP of finance and logistics, sent an email to other executives that admitted a few harsh realities facing the retailer. "In case you haven't seen a sales report these days, February MTD sales are a total disaster," he wrote. "The worst start to a month I have seen in my ~7 years with the company."
At a glance, one of the major headwinds facing Wal-Mart was the expiration of the payroll tax holiday, which affected 160 million Americans. Now at its 2010 rate of 6.2 percent, the payroll tax hike is expected to curb first-quarter economic growth by a full percent, and pull 0.6 percent off of the full-year GDP.
And financial headwinds aren't the only problem facing the company. Wal-Mart has received a substantial amount of criticism for its refusal to sign the Accord on Fire and Building Safety in Bangladesh. The retailer has announced its own plan, which has similar provisions, but such a strategy would leave the company free of legally-binding restrictions in the Bangladesh accord.
Unlike the five year legally binding pact that was drawn up to prevent future disasters like the recent Bangladesh building collapse, Wal-Mart's plan involves the employment of an outside auditor who will inspect Bangladesh factories and publish the results. This documentation of fire and safety issues will then tell Wal-Mart who and what should be adjusted.
The company will also pay for factory audits, which will be conducted by Bureau Veritas, a European inspection company. It stands by its belief that its independent plan meets, if not surpasses, the group safety plan.
Other key highlights out of Wal-Mart's first-quarter earnings include a 2.9 percent jump in international sales to $33.0 billion, or about 30 percent of all sales. Consolidated operating income climbed 1.1 percent on the year to $6.5 billion. Wal-Mart U.S. and Sam's Club grew operating income 5.9 percent and 7.4 percent, respectively.
Looking ahead, the company is expecting to deliver earnings per share in the second quarter in a range between $1.22 and $1.26, which compares against $1.18 in the year-ago period.
As it stands, analysts are expecting the company to earn $1.29 per share on revenue of $119.73 billion next quarter.

Don't Miss: Can Wal-Mart's Solo Bangladesh Plan Be Effective?