Will AmazonFresh Disrupt the Grocery Business?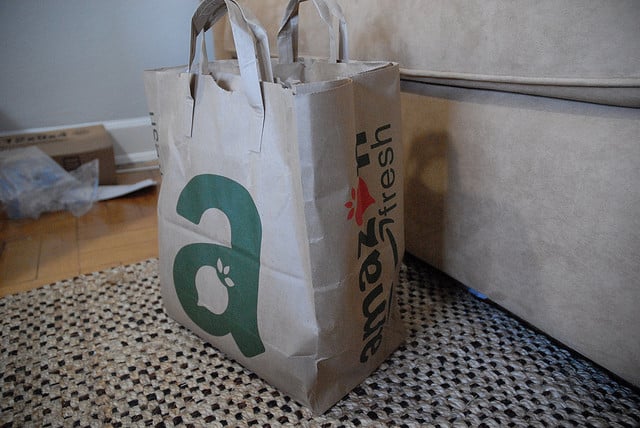 For an industry as big as the $568 billion U.S. grocery market, it would take a powerhouse the size of Amazon (NASDAQ:AMZN) to make some waves. The largest online retailer plans to do just that, if slowly, by expanding its AmazonFresh grocery delivery business to markets with a high concentration of residents. Amazon's team, which includes several members of failed venture Webvan, hopes to apply lessons learned from its unsuccessful gambit of the past.
Reuters reports that AmazonFresh has taken its Seattle-only operation of grocery delivery to Los Angeles and has at least another dozen locations in mind before the end of next year. For now, only densely populated parts of L.A. will get AmazonFresh's service, keeping with a strategy to expand slowly, stay in densely populated areas, and run a tight ship at every warehouse. The lessons were learned by the Webvan executives who ignored them and paid the price with their previous venture.
Webvan was an early entry into the online grocery delivery game, but it was a spectacular failure that crashed by 2001. Amazon has four executives from Webvan on board, all of whom have been figuring out what went wrong and what could work with the model. The biggest lesson, according to some Webvan employees, was expanding before they were doing well in their original locations. Others have suggested that neighborhoods without much of a target audience were hurting the company's effort to operate efficiently. AmazonFresh is proceeding according to these edicts.
Who else would be interested in delivering groceries to customers who order online? It seems like only a matter of time before Wal-Mart (NYSE:WMT) expands its model to the delivery business. The nation's largest retailer is running tests on deliveries in some California markets right now, though Reuters reports there is no plan for Wal-Mart to expand delivery on a serious level.
All told, online grocery sales still aren't breaking 1 percent of the overall $568 billion take, so there is unlimited opportunity for AmazonFresh if the former Webvan executives prove they learned from mistakes made earlier this century. San Francisco will likely get its own launch next, a move expected later this year.
Don't Miss: What's Next In Apple's E-Book Trial?