Will Amazon's Outage Hurt Like Netflix's?
This time, it's Amazon (NASDAQ:AMZN) that could feel the pain. Last Christmas Eve, while families everywhere deliberated over holiday movie choices, Netflix (NASDAQ:NFLX) customers lost access to steaming movies. Amazon Web Services, which hosts Netflix in the cloud, could not deliver for its client (Amazon's system was unaffected). On Friday, Amazon felt the burn when its Prime Instant Video and Instant Video service went down. Could Amazon suffer lost subscribers and bad PR as Netflix did last year?
At first glance, the Instant Video crash's timing appears slightly better than Netflix's outage. Christmas Eve is not the consumer's favorite time to engage tech support, wonder what's wrong with streaming services, or consider Plan B on any level. Good Friday, though a night countless customers were looking for viewing content, doesn't hold quite the same impact.
Yet even this pre-Christmas shutdown didn't prove damaging in the long term for Netflix. Late-year performance was poor, with numerous factors putting investors in a selling mood, but its stock rose steadily in the subsequent months. The appearance of "House of Cards," a Netflix original series tarring KevinSpacey and directed by DavidFincher, erased much of the doubt. Netflix today is stronger than it has been in months and analysts can make a case for bullish sentiments…
Does Amazon have a similar plan in place? News that the company purchased Goodreads was overwhelmingly positive for the company, yet the goodwill may not transfer from the video-streaming segment of its clientele. While the cards may not tumble entirely for Amazon, enough bad blood is bubbling over the Good Friday outage that it should pay close attention.
Unlike Netflix, Amazon's reaction was less than swift. Subscribers to Prime Instant Video (its premium service) were quick to note that, despite the frequent marketing emails they receive, Amazon failed to send a meaningful notice regarding the outage, let alone an offer to compensate for missed service (standard emails went unappreciated). Amazon's competition remains stiff. Without a "House of Cards" up its sleeve, it would be wise to make things right with subscribers, as soon as possible.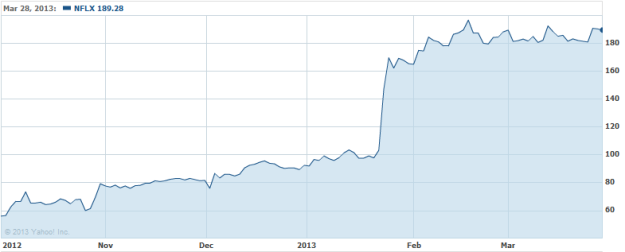 Don't Miss: Can Google and Microsoft Really Be Competitive in the PC Industry?