Will Apple and Samsung Get Pentagon Clearance?
Apple (NASDAQ:AAPL) and Samsung (SSNLF.PK) have long been battling each other for smartphone customers in standard consumer markets around the world. Now the ongoing rivalry between these two smartphone makers will be brought into the Pentagon as the U.S. Department of Defense prepares to review operating systems from each smartphone maker in anticipation of granting security approvals.
Currently the small but prestigious U.S. defense agencies market is dominated by BlackBerry's (NASDAQ:BBRY) devices. However, Blackberry's security approval rating only applies to its older models. Like Apple and Samsung, Blackberry is also currently in the process of getting Defense Department approval for its latest model, the Z10.
However, Apple does have a foothold in some U.S. military divisions which have already approved usage of iPad and iPhone devices. The Defense Information Systems Agency, or DISA, is the government agency that approves devices for Department of Defense use. This agency is currently in the process of approving Apple's iOS 6 operating system for nonclassified communications and is expected to release its findings early this month.
Samsung is the real outsider in the U.S. government market. Since its operating system is based on Google's (NASDAQ:GOOG) open-source Android platform, it is generally considered less secure than Apple's tightly-controlled closed software system. Samsung is also currently in the process of getting approval from DISA, which is reviewing Samsung's Galaxy smartphones featuring its Knox security software. In a bid to provide a more "military-friendly" smartphone, Samsung announced that it plans to unveil a more durable version of its Galaxy S 4 phone called the Galaxy S 4 "Active."
Even with Department of Defense security approval, there is no guarantee that the agency will buy any smartphone makers' devices for its 3 million-plus employees. However, gaining a security clearance rating with the U.S. government is a prestigious designation that has a beneficial spillover effect into civilian markets that place a high value on this government security approval.
Via The Wall Street Journal, Samsung Executive Vice President Young Lee states that "Once we are certified by the government, the more easily can we convince others, the bankers and also big enterprise and so on." In this sense, the battle for U.S. government security approval is just another part of larger battle between Samsung and Apple for overall smartphone market share.
Here's how Apple has traded so far throughout this week.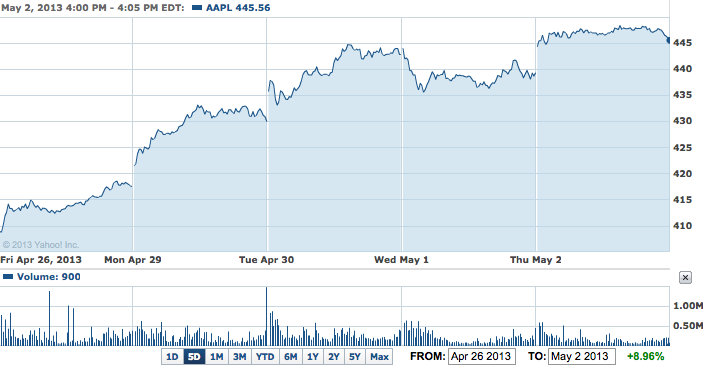 Don't Miss: Is Apple Losing the Tablet Market?