Will Apple Rumors Tank This Stock?
Apple (NASDAQ:AAPL) is rumored to be making moves in the television market with its own Large Panel Retina Display. At least one analyst believes the tech-giant will complement their new television with the iCloud services, which would have ripple effects throughout the stock market…
Should you buy or sell Apple's stock ahead of earnings in a few days? Our 20-page proprietary analysis will help you save time and make money. Click here to get your SPECIAL REPORT now.
Obviously one such stock is Apple's. They already have Apple TV, but manufacturing more than the set top box in addition to pairing it with the iCloud should have Apple loyalists practically waiting to give them their paycheck.
While Netflix (NASDAQ:NFLX) has made recent moves such as striking a distribution deal with Disney (NYSE:DIS) and a potential deal with Sony (NYSE:SNE), Apple's TV combined with the iCloud could stop Netflix's progress in its tracks.
MarketWatch reports that Rich Tullo, director of research at Albert Fried & Co., believes Apple while hinder any more Netflix success. "If Apple roles out a next generation TV it is likely Apple will support the product with the iCloud its natural match in our view. We think Apple could disrupt NFLX and get industry buying and make the current exclusive rights streaming rights controlled by NFLX useless."

Coinstar (NASDAQ:CSTR), another streaming service, wouldn't be happy to see Apple enter this already crowded market either. Coinstar offers unlimited streaming plus four Redbox rentals a month, all for a price less than Netflix. However, its titles are limited and trying to obtain contracts with media companies such as Disney and Time Warner (NYSE:TWX) would be that much harder competing against Apple.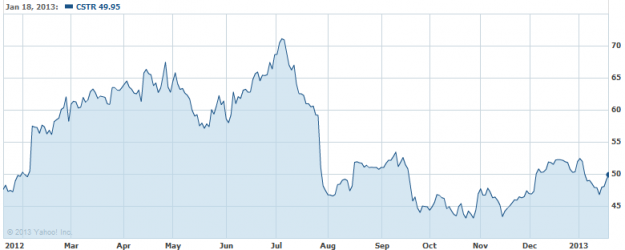 Start 2013 better than ever by saving time and making money with your Limited Time Offer for our highly-acclaimed Stock Picker Newsletter. Click here for our fresh Feature Stock Pick now!
Pandora (NYSE:P) took a hit from Apple barging into their online radio market. Like Coinstar and Netflix, Pandora will struggle to compete against a company with the financial backing of Apple.

Don't Miss: Here's a Vote of No-Confidence for Apple.