Will Bernanke Acknowledge These Risks with Big Banks?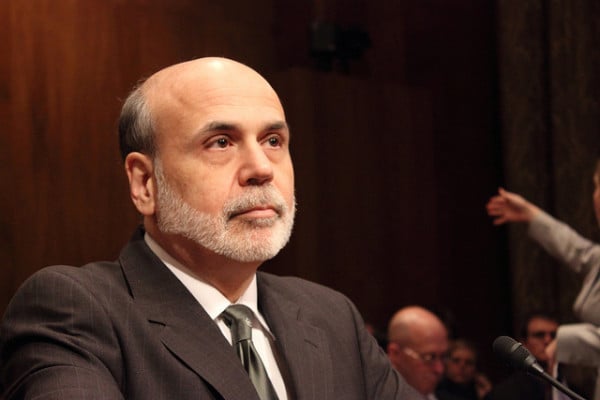 The commodities interests of the biggest banks may present a unique risk to the economy as a whole, according to a letter sent to Ben Bernanke by four Democrats in the House of Representatives. Bloomberg reports the lawmakers are troubled by activities of JPMorgan (NYSE:JPM), Morgan Stanley (NYSE:MS), Goldman Sachs (NYSE:GS), and other major financial institutions, and would like to know what Ben Bernanke plans to do about it, if anything.
"Goldman Sachs, JPMorgan and Morgan Stanley are no longer just banks — they have effectively become oil companies, port airport operators, commodities dealers and electric utilities as well," reads the letter sent in late June to the Fed chairman. ''Such a dramatic intertwining of the industrial economy and supply chain with the financial system creates systemic risk." Calling the big banks "sprawling global entities," the lawmakers wondered whether the Fed was investigating the damage the current system could cause.
While reps at JPMorgan and Goldman Sachs didn't comment on the letter, a spokesperson for Morgan Stanley noted that the bank had been in the commodities business since before it was a bank holding company. As for interests in insurance and investment services, the lawmakers questioned the basis for the 1999 change to laws that allowed the shift to occur.
Noting that laws passed have allowed banks to expand into industries once prohibited for financial institutions, the lawmakers requested information about the Fed's regulatory activities. Bernanke has yet to comment on the letter that circulated in the past weeks in Washington.
Cheyenne Hopkins notes in the Bloomberg story that Goldman's chief executive and president both got their start in the commodities division of the company. Since the 1999 law opened the door to more opportunities for the country's largest banking institutions, there have been unprecedented moves in the financial services industry. It would be difficult to drive the banks out of their commodities businesses, and it's unlikely Bernanke will try to move in that direction.