Will Boeing Have to Pay Up for the Dreamliner?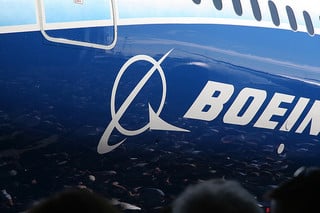 The bad news that many Boeing (NYSE:BA) investors were worried about showed up during last week's market rally like a dark cloud on a sunny day. The aerospace manufacturer, mired in a public-relations nightmare because of the international grounding of the 787 Dreamliner, was informed by All Nippon Airways that it would seek compensation for damages.
Once the Federal Aviation Administration issued the emergency air-worthiness directive, it was only a matter of time until Boeing felt a financial bite. If the aircraft remained out of operation for any substantial period of time, it would start costing carriers more than they would be willing to shrug off. Fleets have already been on the ground for weeks, and there is no clear resolution for the mysterious battery issue haunting the aircraft's launch.
Japan Airlines, which operates seven Dreamliners, has followed suit. The company says that it expects a 700 million yen ($7.54 million) impact on its earnings for the quarter because of the groundings. All Nippon Airways hasn't revealed what the ordeal is costing them, but the carrier owns 17 Dreamliners, suggesting that their costs are much higher.
The Japanese carriers stepping up and publicizing that they will seek damages sets precedence for other carriers to follow suit. United Air Lines (NYSE:UAL) operates six Dreamliners, but it's unclear if it will seek damages or not. All told, 49 Dreamliners have been delivered to eight carriers around the world. Boeing has received orders for 848 of the aircraft so far.
| | | |
| --- | --- | --- |
| Airline | Ordered | Delivered |
| Air India | 27 | 5 |
| All Nippon Airways | 66 | 17 |
| Ethiopian Airlines | 10 | 4 |
| Japan Airlines | 45 | 7 |
| LAN Airlines | 26 | 3 |
| LOT Polish Airlines | 8 | 2 |
| Qatar Airways | 30 | 5 |
| United Air Lines | 50 | 6 |
It's worth pointing out that while carriers will seek damages, it doesn't necessarily undermine their endorsement of the plane. Most airlines have come out in defense of the 787 since the battery incidents, and seem forgiving of whatever fault may fall to Boeing. The billions they stand to save on gas in the years to come thanks to the Dreamliner's more fuel-efficient technology may be the reason behind their support.
Don't Miss: Will January Auto Sales Set the Pace for 2013?