Will BP Soon Put Deepwater Horizon Disaster to Rest?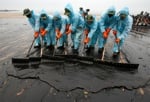 British Petroleum (NYSE:BP) and the United States Justice Department are closing in on a settlement deal related to the 2010 Deepwater Horizon disaster, reports The Wall Street Journal. BP pledged to raise $38 billion by the end of 2013 in order to cover an estimated maximum cost of $37.2 billion related to the spill. If found guilty of gross negligence — as the U.S. Justice Department has accused — BP would be liable for as much as $21 billion in civil penalties under the Clean Water Act alone.
Pending the completion of a $2.5 billion sale of a refinery in Texas to Marathon Petroleum (NYSE:MPC) on October 8, BP will have raised about $35 billion for its damages fund. In addition to fines levied by the U.S. government, this fund will cover a $7.8 billion proposed settlement with private plaintiffs related to the disaster.
Catalysts are critical to discovering winning stocks. Check out our newest CHEAT SHEET stock picks now.
Separately, the U.S. Supreme Court has denied a bid from Chevron (NYSE:CVX) to block judgement on a case related to damages its Texaco acquisition caused in the Amazon between 1964 and 1992. An Ecuadorian court passed judgement against the company for as much as $18.2 billion in penalties in 2011, but Chevron has fought the charges, calling them fraudulent and unenforceable.
The litigation pending against Chevron and BP involves some of the highest dollar figures ever. Exxon Mobil (NYSE:XOM) — just Exxon at the time — was initially fined only $5 billion for the Valdez spill, but that figure was highly contested.  Exxon-Valdez set a lot of precedent for how oil related penalties are currently treated. Among them is the issue facing BP and the Justice Department: was the spill the result of negligence, or a legitimate accident?
Fun fact: In 1994, when JPMorgan (NYSE:JPM) extended $4.8 billion in credit to Exxon to cover the possible $5 billion fine, it effectively created the first credit default swap.
Billions of dollars are on the line. BP has curbed its losses over the past two years, and seems fit to operate competitively in the future regardless of penalties. However, the Associated Press is reporting that the Coast Guard has found more oil in the Gulf of Mexico that matches the 2010 spill. BP and Transocean (NYSE:RIG), which owned the Deepwater rig, have been informed that they could be held financially responsible for the new-found oil.
Don't Miss: New Report: 1 in 8 Banks Fail Stress Test.