Will Casual-Dining Still Thrive in America?
Eating food is an enormous part of American life. From celebrating a special occasion to simply taking a break from cooking at home, people enjoy eating out. America is the most gluttonous country in the world, with more than a third of its citizens being classified as obese, but the restaurant industry is serving a different customer these days.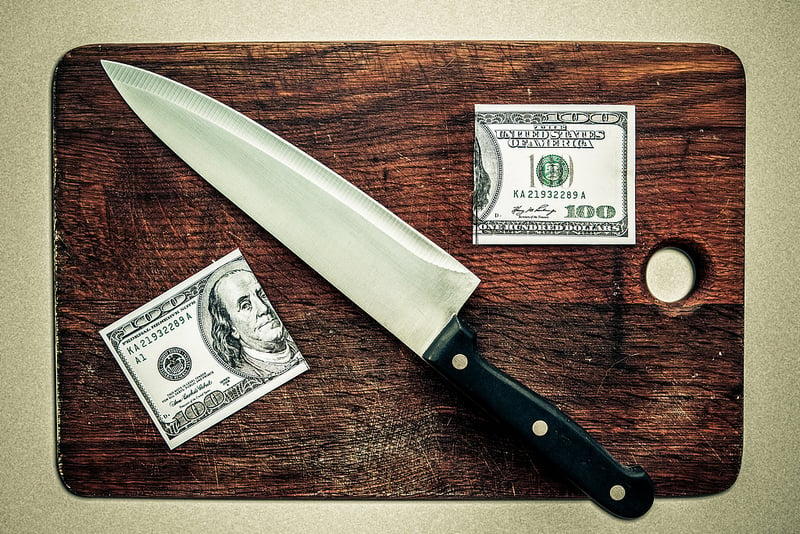 Wallets are on a diet. Several factors such as stagnant incomes, high unemployment rates, and rising living costs are all weighing on how people spend money. Sales at casual-dining establishments dropped 5.4 percent in February, after declining in January and December, according to the latest reading from the Knapp-Track Index of monthly restaurant sales. This is the first three-month losing streak for restaurants since 2010.
Malcolm Knapp, the creator of the index, tells Bloomberg that "February was pretty ugly" for many chains. In fact, it will probably be the worst month of the year since payroll taxes and health-care premiums hit paychecks. Additionally, rising gasoline prices weighed on consumers. Knapp adds that even weather played a role. "It's important to keep in mind that companies also are facing unusually tough comparable sales because of favorable weather in 2012."
Deals are going stale…
Restaurant traffic was down significantly in 2008 and 2009, but deals and special offers kept consumers at the casual-dining table. According to NPD's CREST, which tracks over 400,000 consumer restaurant visits a year, restaurant visits on a deal were up 5 percent in 2008 and 3 percent in 2009. However, after a few years of these deals and an economy that has yet to fully recover, deal visits declined 3 percent in 2012.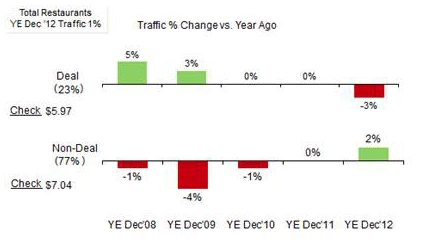 "Deals and special offers definitely influence restaurant visits and if it weren't for deals during the recession the industry would have fared much worse, but some of the deals being offered today aren't resonating with consumers," said Bonnie Riggs, NPD's restaurant industry analyst. "Considering current consumer sentiment and their continuing frugality, the deals that have historically appealed to restaurant customers need to be re-engineered and the next generation of deals introduced."
Despite the headwinds, restaurant stocks have been receiving upgrades this week…
Financial services company Raymond James upgraded both Chipotle Mexican Grill (NYSE:CMG) and Panera Bread (NASDAQ:PNRA) from Underperform to Market Perform. It upgraded Brinker International (NYSE:EAT), the owner of Chili's, from Market Perform to Outperform with a price target of $42. Raymond James also upgraded Buffalo Wild Wings (NASDAQ:BWLD) to a Strong-Buy.
Following the trend, Goldman Sachs upgraded Brinker International and Panera Bread on Thursday. However, it has a Neutral rating on Chipotle, as the company may be losing its "cool factor." Goldman also downgraded Domino's Pizza (NYSE:DPZ) from Conviction Buy to Buy, but still believes "long-term fundamentals and growth potential remain intact."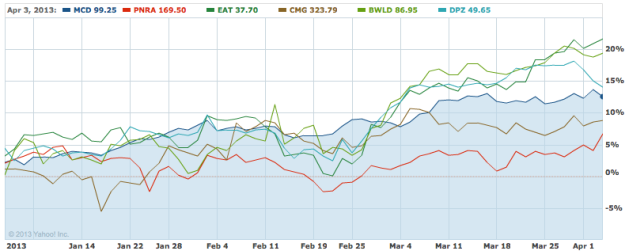 As the chart above shows, many restaurant stocks are thriving in the current environment. Shares of Brinker International and Buffalo Wild Wings have both surged about 20 percent year-to-date. McDonald's (NYSE:MCD) and Domino's Pizza (NYSE:DPZ) shares have jumped 13.7 percent and 15.6 percent, respectively. Panera Bread and Chipotle are also in the greed for the year.
Here's how the market traded on Thursday: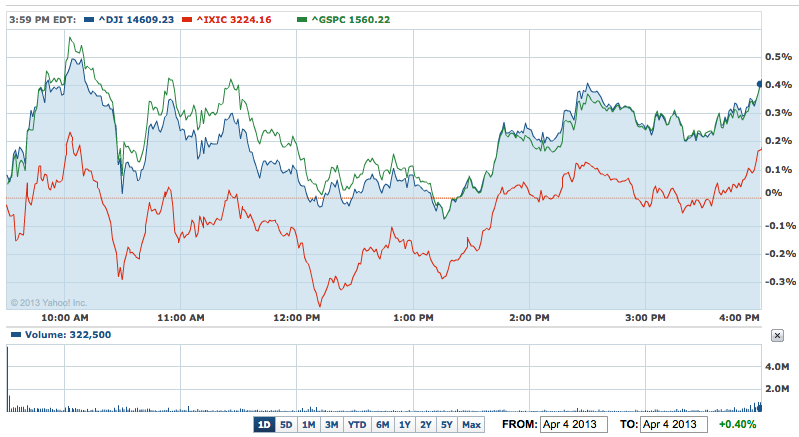 Don't Miss: These 5 Companies Love Tax Season