Will Central Bank Stimulus Keep Manufacturing Alive?
Federal Reserve Chairman Ben Bernanke's testimony on the U.S. economic outlook on Wednesday took global markets by storm. In the wake of the financial crisis, equity markets have become addicted to central bank stimulus and even the slightest indication that the Fed will tighten the monetary drip will send tremors of selling pressure through the exchanges.
This was abundantly evident on Thursday, when Japan's Nikkei index declined 7.32 percent. The plunge is a testament to the dangers of how hot money can inflate stock prices and how sensitive market sentiment really is to monetary policy. Other major markets in Asia and Europe also declined, and Mr. Market is waking up to his worst day in weeks.
Bernanke reiterated in his testimony that Fed policy will remain dynamic and adapt to incoming economic data. Recently, positive trends in labor market conditions — and increasing criticism about the size of the Fed's balance sheet — have fueled speculation that purchases could be tapered as early as this summer. Minutes from the last FOMC meeting confirmed this speculation, with several members proposing that an exit be pursued.
The news, of course, was anathema to traders, who quickly began selling. Early gains in the U.S. markets on Wednesday evaporated into losses by closing time. Now, artificially sensitive to any indicator that could influence Fed decision making, investors have turned their attention to mixed manufacturing reports out of China and the U.S.
The slowdown in U.S. manufacturing continued in May, according to Markit's Flash U.S. Manufacturing PMI report. The purchasing managers index registered 51.9, its lowest reading since October, and the second consecutive month of slowing growth. However, this reading was still better than expectations. At a glance, it appears that U.S. manufacturing is standing upright, although still heavily supported by policy.
"With the PMI hitting a seven-month low, the U.S. manufacturing economy continues to show signs of weakening. Growth has slowed sharply in recent months, down from an annualised pace of 4.9 percent in the first quarter to just 1 percent in May," commented Markit Chief Economist Chris Williamson. "The goods-producing sector is therefore likely to have provided only a modest boost to the U.S. economy in the second quarter, providing further worrying signs that growth remains lacklustre."
The purchasing managers index is a gauge of the economic health of the manufacturing sector. Broken down into five components — new orders, inventory levels, production, supplier deliveries, and employment — the flash Markit PMI index gives investors an advanced reading of what actual conditions are like in the private sector. This information will help inform the economic backdrop against which they have to make investment decisions.
Perhaps most importantly, weakness in the manufacturing sector — as indicated by two periods of slowing growth, with the slowest growth in employment — suggests that premature tapering of central bank stimulus could send a tepid recovery into contraction.
"Slower growth could be linked to a combination of fiscal drag hurting demand at home while at the same time many export markets remain in fragile states. The latter led to a renewed decline in export orders in May," commented Williamson. "There was also disappointing news in relation to job creation. With employment growing at the slowest rate since last October, the survey suggests that the Fed cannot risk tapering its stimulus any time soon."
Meanwhile, the HSBC Flash China Manufacturing PMI report, compiled by Markit, read 49.6 in May, a seven-month low indicating contraction for the sector. The output index fell fractionally to 51.0, a three-month low but still indicating growth.
Hongbin Qu, Chief Economist, China & CoHead of Asian Economic Research at HSBC commented: "The cooling manufacturing activities in May reflected slower domestic demand and ongoing external headwinds. A sequential slowdown is likely in the middle of 2Q, casting downside risk to China's fragile growth recovery. Moreover, the further signs of labour market slackness call for more policy support. Beijing still has fiscal ammunition to do so."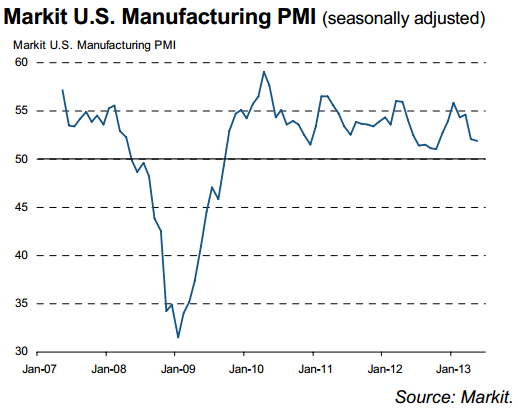 You can follow Dan on Twitter (@WSCS_Dan)
Don't Miss: You Should Listen to Warren Buffett On Economic Moats.