Will Chevy's New SUVs Follow the Silverado's Lead?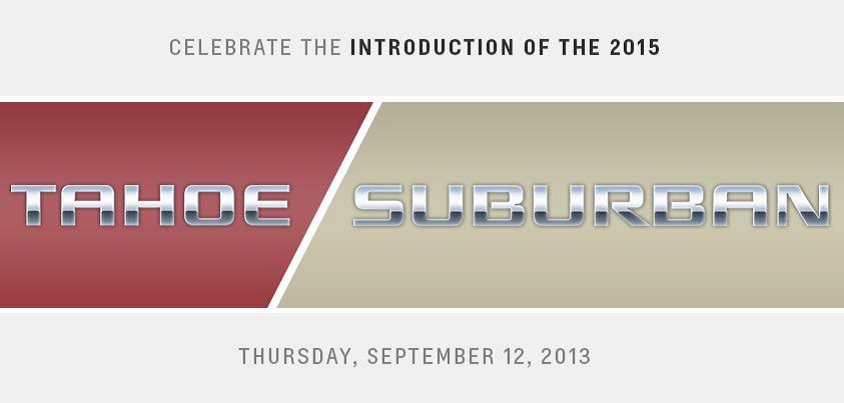 If you're in the market for a new car and your principle concern is space, few cars can hold a candle to the acreage offered by Chevrolet's (NYSE:GM) monstrous Suburban SUV. However, moving that volume of room around demands some considerable thirst for fuel, and the Suburban and even its younger sibling, the Tahoe (to a lesser extent), have felt the pressure of higher gas prices weighing on their sales.
But on Thursday, General Motors is scheduled to debut the two latest generations of the models in New York City — far away from where the automotive spotlight will be, in Frankfurt, Germany, where the Frankfurt Motor Show will be getting underway. Aside from the date and the picture above released via Chevrolet's Facebook page, observers really have nothing else to go on.
"Expect some of the changes applied to the new Silverado to carry over when the latest Tahoe and Suburban hit dealers next year as 2015 models," Autoblog surmises. This includes some aggressively squared-off wheel arches and sharp, angular styling upfront — a rather far departure from Ford's (NYSE:F) approach, which seems to be favoring a sleeker, more aerodynamic look.
The new Tahoe and Suburban models will also likely be indicative of the GMC Yukon and Cadillac Escalade models to come. However, GM's commitment to overhauling the latter's entire lineup could result in an even further redesign for the Suburban's luxury counterpart.
While no engine options have been discussed, chances are the new models will be available with a variant of the eight-cylinder unit that's now available in the new Silverado, which features a cylinder deactivation system that can drop the consumption from eight cylinders to four. In the Silverado, the EcoTec3 engine is good for 355 horsepower and 383 pound-feet of torque, which is positive for 16 miles per gallon city and 23 miles on the highway (the 2013 Suburban was good for 15 and 21, so the unit wouldn't offer a tremendous improvement). There may also be the option for the 4.3 liter V6, and almost certainly the 6.2 liter V8.
Another possibility down the road is the addition of a diesel unit to the lineup. While Nissan is adding a Cummins-sourced diesel unit to its new light-duty Titan, and Toyota (NYSE:TM) is contemplating a similar move (Ram has already implemented a diesel V6 option for its 1500), Ford and GM may find themselves moving in a similar direction to remain competitive. Time will soon tell.