Will Citigroup Continue to Rise?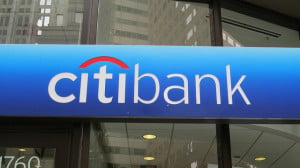 Following a series of Citigroup Inc. (NYSE:C) shakeups in 2012, the most important of which was Michael O'Neill's decision to put Michael Corbat at the head of Citi, the bank has gained nearly 45 percent since April of last year. Now sitting at $50.81, Gerard Cassidy, a bank analyst at RBC Capital Markets, believes there's "still meaningful upside."
While Citi has already had enormous success, Cassidy believes that a price in the mid $70′s or low $80′s is possible over the next several years. Much of that success is attributed to Corbat and O'Neill, who are sometimes referred to as the "Two Mikes." Despite nearly failing in 2008-2009, even falling below a dollar briefly, Citi is now focused on being the top bank in the world.
"Our goal is to be viewed as indisputably strong and stable and to be recognized as a company that's got the ability to generate quality, consistent earnings, a company that is known for making good, smart decisions and being a good shepherd of our shareholders' equity, and of our stakeholders' resources," Corbat told Barron's via phone.
Onlookers have noted that the combination of O'Neill and Corbat are critical to Citi's newfound success and are "capable of running a bank and executing as well," according to Robert Stoll, an analyst at Institutional Capital. "Michael Corbat is more focused and has laid out a clear strategy for executing on things we think are important," Stoll says.
In the form of the scorecard provided to shareholders, Corbat has established a series of financial targets for Citi: lift return on assets to 90 to 110 basis points from the 62 points in 2012; boost return on equity to over 10 percent, compared to 5 percent in 2012; and attain an efficiency ratio in the mid-50 percent range compared to 2012′s 60 percent.
However, it is Citi's international presence that allows for the company to be so successful. Fifty-eight percent of Citigroup's $70 billion in revenue comes from outside of North America — compare that to JP Morgan Chase's (NYSE:JPM) 19 percent and Bank of America's (NYSE:BAC) 13 percent. In an increasingly regulated U.S. economy, Citi's international revenue has been a boon for their profits.
Corbat says that Citi's longterm strategy revolves around the themes of globalization, urbanization, and digitization. As technology becomes increasingly mobile, Corbat wants Citi to be positioned with newly rich populations — Mexico, India, China, Malaysia, for example — so that it can provide them with services wherever they are via mobile technology.
Although Citi Holdings stands at $149 billion in problem assets, such as U.S. related mortgages and home equity loans, that number is far lower than the $800 billion in 2008. The recovering housing market has allowed Citi to recover more for the assets and simply unlocking capital connected to Citi Holdings could might add $10 a share, according to Moshe Orenbuch, a bank analyst at Credit Suisse.
On Monday, Citigroup will report second-quarter earnings and analysts estimate it will earn $1.18 a share on revenue of $19.8 billion. For the entire year, it is estimated that Citi will earn $4.73 a share compared to $3.86 in 2012.
Don't Miss: Are Interest Rate Fears Holding Back Consumer Sentiment?