Will Construction Spending Boost First Quarter GDP?
Government financial calamities dotted the first months of the year, and concerns that the fiscal cliff and the subsequent sequester would put the economy back in dire straits prompted many analysts and pundits to put forward a negative growth thesis. But so far, while the economic numbers have not been outstanding and gains have been uneven, slight improvements have been made in housing, labor, and manufacturing. Monday's report on construction spending fits with that trend.
Coming in just above the consensus estimate for a 1 percent gain, the United States Department of Commerce's Census Bureau reported that construction outlays rebounded 1.2 percent in February to an annualized rate of $885.1 billion after falling 2.1 percent in January. Compared with the year-ago period, construction outlays were up 7.9 percent for February, above January's 6.1 percent jump. With this improvement, the construction sector will likely add to first quarter economic growth…
Leading this spending increase was a 2.2 percent jump in residential construction — which dipped 0.1 percent the previous month. However, delving deeper into the residential segment shows some unevenness; the new one-family component jumped 4.3 percent for the month, while the new multifamily component dropped 2.2 percent. However, in general, near record-low borrowing costs and an improved labor market outlook are increasing the demand for residential real estate, giving a boost to home builders like KB Home (NYSE:KBH). More job creation would therefore ensure a more sustained recovery in the industry — which, in turn, would allow for more spending on construction…
"Housing, growth-wise, will be the best-growing sector of the major sectors in 2013, hands down." Ken Mayland, president of ClearView Economics, told Bloomberg. "I'm totally optimistic about housing's recovery — there's an inevitability that it has to go higher."
As the housing recovery continues to gain traction, its strength has begun to be translated to the construction industry, which is evident in February's spending report. However, construction spending in the public and nonresidential sectors was weak as the fiscal issues afflicting the federal government and revenue shortfalls at the state and local government levels have held back new building projects. Public construction spending only rose 0.9 percent for the month…
The Census Bureau's survey — which has been conducted since 1960 — provides a good indicator of the economy's momentum as construction spending is directly affected by interest rates, business cash flow, and federal fiscal policy. Trends in construction data carry important signs for how stocks of home builders and large-scale contractors will fair in coming months as well. But most importantly, businesses only construct new facilities when they are confident that demand for their goods or services is high enough to justify the expansion.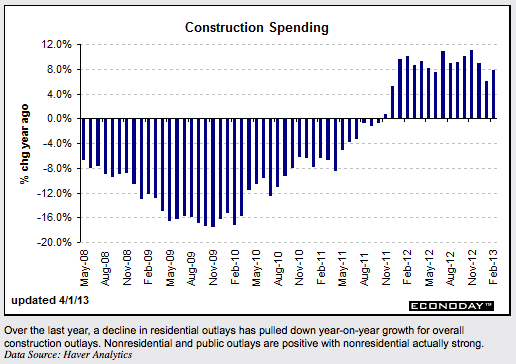 Don't Miss: The International Monetary Fund's Next Step in Egypt.