Late Friday, the Federal Reserve said consumer credit in the US unexpectedly declined in August.  Consumer credit decreased by $9.5 billion, the largest decline in over a year. The decline was a complete 180 when compared to the nearly $12 billion increase seen in July.  Furthermore, non-revolving credit such as student loans and auto financing declined by the most in three years.  Chris Rupkey, chief financial economist at Bank of Tokyo-Mitsubishi explained, "Consumers were cautious over taking on additional debt at the end of the summer after the volatility in the stock markets and the uncertainty caused by the failure of Congress to work together to bring down these trillion-dollar deficits."
Financial Biz Cheat Sheet: Conflict of Interest at Harleysville, Moody's Downgrades European Banks>>
Although total consumer credit declined, many individuals still rely on credit cards to get by in this economic environment where 9% unemployment is the norm.  As the chart below shows, several credit card companies such as Mastercard (NYSE:MA), Discover Financial Services (NYSE:DFS), and Visa (NYSE:V) have been performing well this year.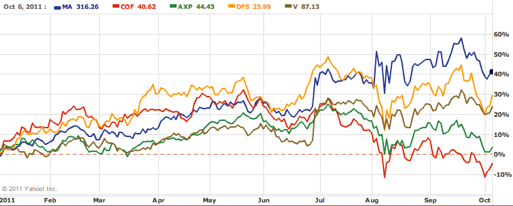 However, Capital One Financial (NYSE:COF) and American Express (NYSE:AXP) have lagged behind.  With Mastercard shares rising nearly 40% year-to-date, investors such as Warren Buffett have taken notice.  In what looks to be a play on the weak economy, Buffett added a stake in Dollar General (NYSE:DG), and increased his holdings of Mastercard by a whopping 88%.  As of June 30th, Berkshire held 405,000 shares of Mastercard, while American Express remained the third biggest portfolio position.
More recently, Mastercard and Visa, the two largest payment technology providers, have been in a battle with regulators and fees.  In response to the Durbin Amendment, which places a cap on fees that retailers pay, the two companies are raising fees on small debit card transactions.  The move is aimed at making up lost revenue, but may also encourage retailers to set a minimum purchase amount for customers using a debit card.  This could drive debit card users to switch companies or use credit cards instead.  There is still uncertainty involving the move, but some companies are taking a more direct approach. Bank of America (NYSE:BAC) and Citigroup (NYSE:C) will be charging customers higher fees on various debit card and checking accounts.  Earlier in the year, JP Morgan (NYSE:JPM) experimented with $5 ATM fees.  Higher fees are quickly becoming the new normal for customers using big name plastic.
You don't need to be Warren Buffett to play this market, learn how to protect your portfolio by diversifying in precious metals such as gold (NYSE:GLD) and silver (NYSE:SLV).  We invite you to try our premium service free for 14 days.
Market Recap: Jobs Report Gives Markets An Early Boost But Downgrades Send Stocks Lower>>