Will Debt Ruin Your Retirement?
"Gold is the money of kings, silver is the money of gentlemen, barter is the money of peasants, but debt is the money of slaves," writes Norm Franz in his book Money & Wealth in the New Millennium. Considering the amount of debt among Americans, the future could be one of servitude.
The worst financial crisis since the Great Depression has led to fewer households holding some form of debt, but debt levels are increasing for those with it. According to a new report from the U.S. Census Bureau, 69 percent of households held debt in 2011, down from 74 percent in 2000. Credit card debt among households also declined from 51 percent to 38 percent during the same period.

Despite the improvement, the median of household debt between 2000 and 2011 increased from $50,971 to $70,000 on an inflation-adjusted basis. The median debt amount divides households into two equal groups, one having debt less than $70,000 and the other having more.
Two kinds of debt rise rapidly…
Several factors such as stagnant incomes, high unemployment, and rising living costs have resulted in a 30 percent surge in both secured and unsecured debt.
Median secured debt on items such as real estate or automobiles jumped from $69,749 in 2000 to $91,000 in 2011. Unsecured debt, which includes credit cards, student debt, medical debt, and other loans increased from $5,365 to $7,000. Overall, households holding unsecured debt increased from 11 percent to 19 percent.

On the positive, there was not a statistically significant change in debt between 2009 and 2010, and both secured and unsecured debt decreased between 2010 and 2011.
Debt weighs on retirement…
Combined with recent reports about how little Americans are saving for retirement, and the struggling net worth of households in the current financial environment, rising debt among older generations is a growing concern. Between 2000 and 2011, those in the 35 to 44, 45 to 54, and 55 to 64 age groups increased their median debt by $21,350, $23,055, and $27,346, respectively.
On a relative basis, those in the 55 to 64 age group increased their median household debt by 64 percent. Household debt for those 65 and older more than doubled, representing the biggest increase among all age groups.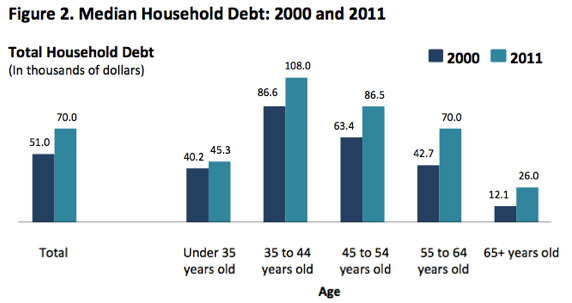 "Those 65 and over became more likely to hold debt against their homes, and their median housing debt increased, as well, which explains a significant portion of the increase in their overall debt between 2000 and 2011," Census Bureau economist Marina Vornovytskyy said.
Here's how the market traded Monday: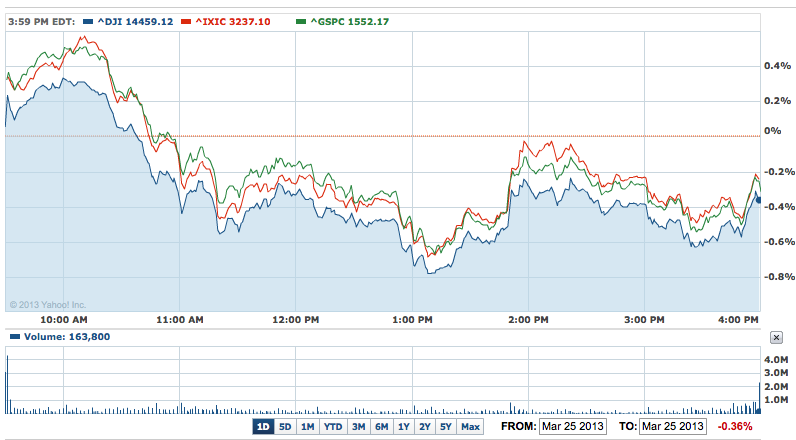 Don't Miss: Is Retirement Already Out of Reach for Younger Generations?