Will Fed's Tapering Lead to Market Panic?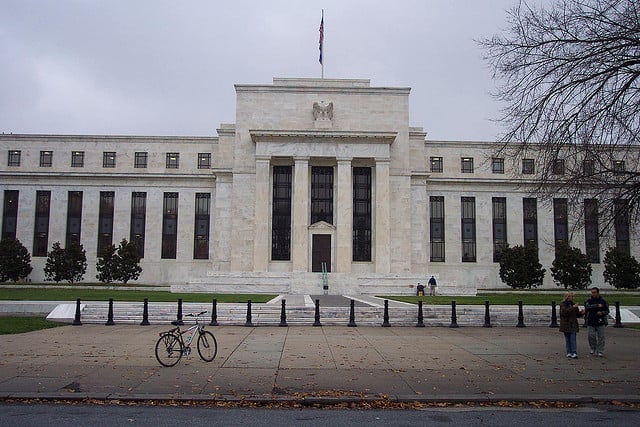 The Federal Reserve isn't likely to begin cutting back on it's bond buying program of quantitative easing until next year — however it does seem more and more likely that changes are coming. ING economist Rob Carnell has said that it's "virtually impossible to forecast the timing of the taper." Others, including Fed President Charles Plosser, think that unemployment rates and other economic indicators mean the time has come to "gracefully exit" the economic stimulus program.
In addition to unemployment rate lows, the November retail and food sales report from the U.S. Census Bureau beat out expectations and confirmed economic growth. While a reduced need for the stimulus program is a hopeful sign for economic recovery, Reuters reports it could have market effects, such as a sell-off, that would hurt the economy internationally.
The U.S. economy may be showing good stats — but does that mean it's ready to lose stimulus? Even if it is, will investors keep their heads, or will the announcement lead to panic? David Kelly, chief global market strategist at JPMorgan Funds, told Reuters that he believes a taper from the Fed would send a positive message. "Tapering now would tell us that the Federal Reserves believes the U.S. expansion is durable and that the global economy, at a minimum, is less fragile," said Kelly.
Nearly thirty of the sixty economists polled by Reuters said they believed the Fed wouldn't cut back on quantitative easing until March — but twelve, or 20 percent, of the sixty thought that tapering might begin this week. A month ago, Reuters reports, only three believed that was a possibility.
"Timing the reduction in stimulus, wile at the same time convincing the economy it's a good thing to do, is going to be challenging. Right now if you look at the U.S., Europe, China, and Japan, they all look to varying extents okay — but they're not accelerating," said Jerry Webman, chief economist at OppenheimerFunds, to Reuters.
Don't Miss: 5 Reasonable Economic Predictions for 2014.