Will Food or Energy Drive Inflation Higher?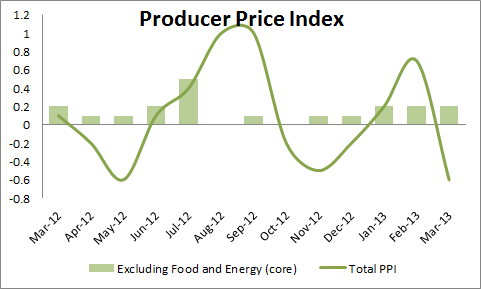 The seasonally-adjusted Producer Price Index for finished good decreased 0.6 percent month over month in March, according to the Bureau of Labor Statistics. This compares against expectations for a decline of 0.2 percent. On the year, producer prices increased 1.1 percent.
Monthly changes in the headline PPI index are generally volatile because of fluctuations in food and energy prices. In March, the finished foods index increased 0.8 percent, led by a 21.5 percent surge in the index for fresh and dry vegetables. Meanwhile, the finished energy index declined 3.4 percent, led by a 6.8 percent decline in the gasoline index, which accounted for more than 80 percent of the total change.
Excluding food and energy, the PPI increased 0.2 percent on the month and 1.7 percent on the year.
The PPI measures prices changes from the perspective of the seller. This makes the headline index a gauge of the prices received by producers for a fixed basket of goods. So, although the Consumer Price Index is the core measure of inflation, changes in the PPI index can be used as a leading indicator of inflation…
Since the finished goods index covers final products bought from producers by businesses — which will either sell them directly to consumers or use them as capital equipment — increases in the price of finished goods can be passed on to the market, depending on conditions.
With this in mind, investors can use the various PPI indexes to track inflationary pressure before it really manifests in the market. If finished goods prices advance sharply for a number of consecutive months, these increases could be passed on to consumers.
Likewise if the price index for intermediate goods or crude goods increases sharply for a number of consecutive months, these changes could ultimately work into the pricing of consumer goods and change the CPI, which will in turn affect the inflation rate.
The index for intermediate goods in March fell 0.9 percent month over month, while the index for crude goods fell 2.5 percent.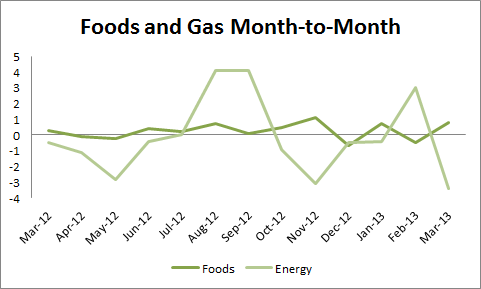 Don't Miss: Don't Forget About These 5 Commonly Forgotten Tax Deductions.