Will These High Fees Steal Your Retirement?
Given the weakness of the economy, retirement may seem like a pipe dream for many Americans. Several factors such as stagnant incomes, high unemployment rates, and rising living costs are all weighing on people trying to prepare for the golden years. However, fees may also be hindering the retirement process.
Employees across the nation are losing tens of thousands of dollars in retirement savings through 401k fees. The results vary by each company, but some workers are losing twice the amount as others by not paying attention to fund fees, according to an analysis of 2,300 company plans by FutureAdvisor and CNN.
Operating expenses such as investment management and record keeping fees are expressed as the expense ratio, while marketing and distribution expenses are often referred to as a 12b-1 fee. These fees amount to a small portion when savers are first starting out, but grow over time. FutureAdvisor finds that people typically pay less than $100 in fees per year when their balance is low, and can more than triple to $355 per year when account balances reach $50,000. Near retirement age, savers could be paying several thousand dollars a year.
"While fees are a small percentage of your balance, it is a huge chunk of your expected growth," explains Bo Lu, FutureAdvisor co-founder. He continues, "I think what people fail to realize is that oftentimes you can save yourself an enormous amount of fees just by picking the right funds in your 401k…People think just because they're not pulling out a credit card or their wallet, that they don't exist. There is almost nothing else in our lives where we pay $1,000 where we thought we didn't pay anything."
Comparing high-fee funds to low-fee funds…
Although many 401k plans lack a wide variety of choices, the report serves as a reminder about fees and long-term performance. If your company offers matching contributions, it can also make paying fees less painful. Furthermore, the same low-fee strategies can be applied to IRA plans or regular investment accounts.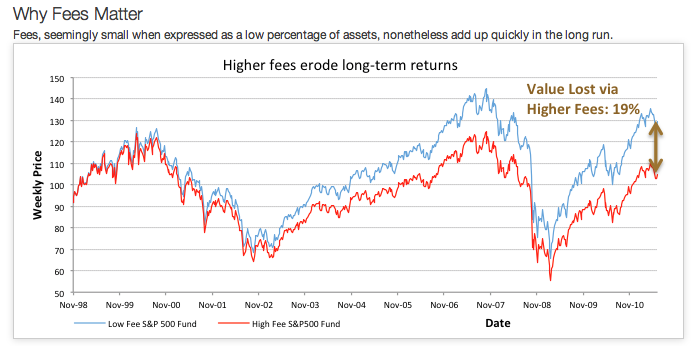 As the chart above shows, fees add up to significant amounts in the long run. FutureAdvisor compares a low-fee S&P 500 fund to a high-fee S&P 500 fund from November 1998 to June 2011. The low-fee fund had an expense ratio of 0.09 percent, one of the lowest in its class, and the high-fee fund had an expense ratio of 2.28 percent, identical to the highest-fee member of Lipper's S&P 500 Index Objective Fund Class. The difference over the time period totaled 19 percent.
Every little bit helps…
The Employee Benefit Research Institute's latest survey on retirement confidence shows that the majority of workers have saved for their golden years, but the piggybank is quite slim. Excluding the value of a primary home and any defined benefit plans, 57 percent of households say they have less than $25,000 in savings and investments. Twenty-eight percent say they have less than $1,000.
Some people may try to play catch-up in their investment accounts by using managed funds, but reports show that low-cost index funds typically outperform. In its 10th annual fund performance scorecard, S&P Indices finds that fewer than one in five mutual fund managers beat the market last year. This is the weakest showing from actively managed funds in the past 10 years. Over the past decade, the average percentage of funds underperforming totaled nearly 60 percent.
Earlier this year, co-founder of Vanguard Jack Bogle explained, "What we're seeing now is the real triumph of indexing. Over the past six years about $650 billion flowed into index funds with most going into the broad stock market and bond market funds. Active fund managers lag the market because they have to. They've gotten so large they can't outperform each other."
Here's how the broader U.S. indexes performed on Monday:

Don't Miss: Is Retirement Already Out of Reach for Younger Generations?