Will Holiday Sales Drop This Year?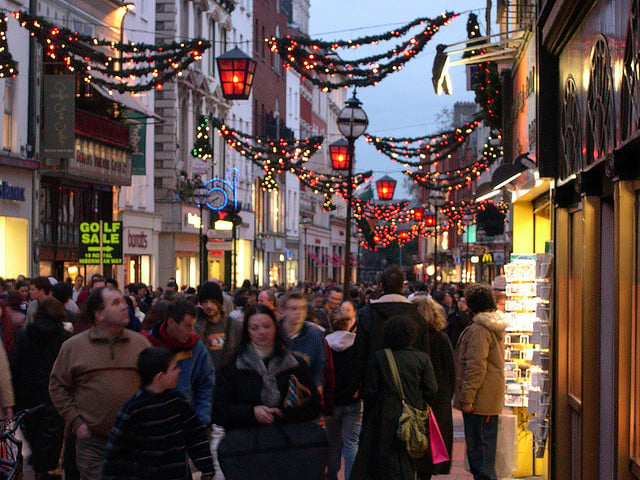 Recent months have been rough on economic confidence in the United States, what with the government shutdown and debt ceiling standoff that nearly threatened a default on America's payments. Not to be a financial Grinch, but with furloughed government employees, Healthcare.gov's bumpy start, food stamp cuts, the sequester, and unemployment rates still low, it wouldn't be surprising if holiday sales were depressed this year.
According to new statistics from the American Research Group, which conducts national surveys of consumers, Christmas spending plans are down from last year's numbers. "Shoppers around the country say they are planning to spend an average of $801 for gifts this holiday season, down from $854 last year according to the twenty-ninth annual survey on holiday spending," the report, released earlier in November, said.
The 6 percent decrease expected this year is perhaps a telling indicator of economic confidence. In 2004, average spending sat at $1,004, dropping to $859 in 2007 and to $431 in 2008. Also noted in the survey was the number of purchases consumers planned to wait on sales for, with 46 percent saying they would be doing so.
This is a decrease from last year, when 54 percent planned to wait on sales, though it's still a hefty majority to the 23 percent planning to pay full price and the 31 percent that said their plans would depend on the gift.
In contrast, the National Retail Federation predicted that 2013 holiday sales would increase by 3.9 percent to 602.1 billion, compared to $579.5 billion last year. That would be good news for retailers, which the NRF reports can pull in 20 to 40 percent of its annual sales during the holiday shopping season. In 2012, for example, the holiday period totaled 19.3 percent of retail industry sales. Still, not all retailers are looking at the coming season with such high hopes.
"G.D.P. continues to grow at a painfully slow pace, while household income and consumer spending remains constrained. In particular, lower and middle-income households are shopping cautiously, as they work to stay within tight, very tight, household budgets, which have seen additional pressure from this year's payroll tax increase," said Gregg Steinhafel, the CEO of Target, to The New York Times.
Don't Miss: 5 Simple Steps to Repair Your Retirement Nest Egg.