Will iRadio Turn the Volume Down on Pandora?
Rumors and speculation continue to build about Apple (NASDAQ:AAPL) turning up the volume on the Internet radio scene. The move would be a direct shot at Pandora's (NYSE:P) business, but at least the current radio star has a large head start.
In the fourth quarter, Pandora and other subscription-based and free Internet radio services accounted for 23 percent of the average weekly music listening time among people between 13 and 35 years old, according to The NPD Group, a global information company. In comparison, these services only held a 17 percent share a year earlier.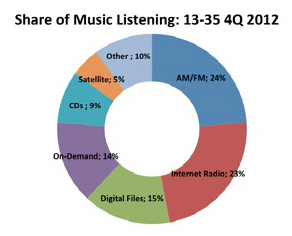 The younger generations are clearly adopting to Internet-based music services faster than older generations. Listening to AM/FM radio accounts for 24 percent of music time among those aged 13 to 35, down 2 percent. In the 36-and-older group, Internet radio only accounts for 13 percent, while AM/FM radio holds a 41 percent share.
Pandora is the clear leader…
"Driven by mobility and connectivity, music-streaming services are rapidly growing their share of the music listening experience for teens and young adults, at the expense of traditional music listening methods," said Russ Crupnick, senior vice president of industry analysis at NPD.
Among streaming music usage, Pandora has a commanding market share of 39 percent. The closest competitors are iHeartRadio and Spotify at 11 percent and 9 percent, respectively. Services such as Xbox Music (NASDAQ:MSFT) and Last.fm ranked at the bottom with a 2 percent market share each.
NPD notes that more than half of Pandora and iHeartRadio listeners used their mobile phone to access those services, while one in five currently connect in their cars. Sixty-two percent of those between the ages of 13 and 35 said they used streaming services more than they had in the past. Fifty-one percent said most of their listening was done in their cars, an area previously dominated by AM/FM radio.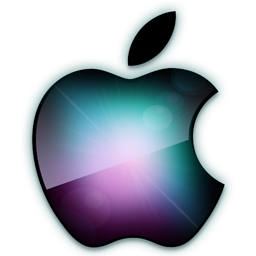 Given the success of Internet-based music services, it's easy to understand why Apple would want to enter the radio market. The money generated from Pandora, Spotify, Vevo, YouTube (NASDAQ:GOOG), and others totaled $1 billion last year and will continue to grow as technology becomes a bigger part of our daily lives.
Last week, The Verge reported that Apple will supposedly launch its own Internet radio service called "iRadio" this year, with a hard push to make it available this summer. Multiple music industry insiders told The Verge that significant progress was made between Apple and two major labels, Universal and Warner. One source said, "iRadio is coming. There's no doubt about it anymore."
Don't Miss: This is What Apple's Job Creation Looks Like