Will It Be Hillary in 2016? This Survey Says Yes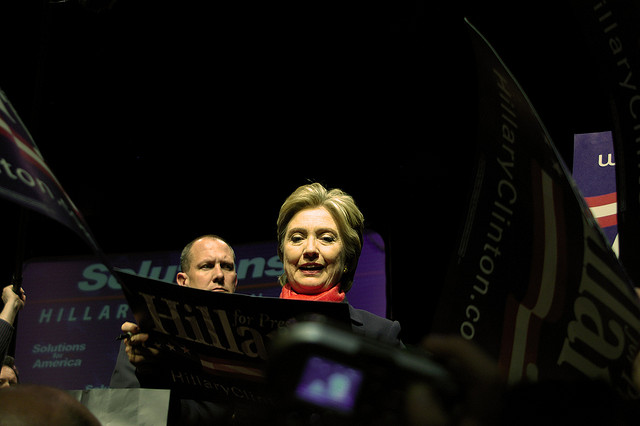 The next presidential election is more than two years away and candidates have yet to declare, but already the main contenders are beginning to emerge as are voters' preferences. From early polling results, it seems 2016 could be Hillary Clinton's year. According to the results of a recent Washington Post-ABC News poll, registered voters prefer Clinton over other leading potential Democratic candidates by a massive margin. The former Secretary of State won 72 percent of votes while current Vice President Joe Biden took in just 12 percent and Massachusetts Senator Elizabeth Warren took 8 percent. According to the Post, her lead is the largest early lead recorded in at least 30 years of polling, a statistic that suggest the party nomination is hers to lose.
That six to one lead points to the wide base of Democrat support Hillary Clinton has among voters of different ideological backgrounds and of differing genders, ethnicities, and classes. But equally significant is the fact that if the "2016 presidential election were being held today" with Clinton as the Democrat candidate and New Jersey Governor Chris Christie as the Republican candidate, 53 percent of voters would choose Clinton. But her lead in that match could be impacted by the fact that Christie political stature has taken a hit from the bridge-traffic scandal.
Of course, Clinton may still choose not to run for president. No formal announcement has been made and no documents have been filed with the Federal Election Commission. According to Time Magazine's David Von Drehle, "people close to Clinton and familiar with her thinking insist that she hasn't made a decision," and in his opinion, that is because making that decision would only slow her down. "We can believe that she hasn't 'decided' to 'run' because there is almost nothing that a decision would change for her," he wrote. "It would be like Jennifer Aniston deciding to get her picture in a supermarket tabloid or Warren Buffett deciding to be quotable. All outward behaviors remain the same."
Part of the preoccupation with the question of whether Clinton will run for office is the dearth of strong alternatives. That reality could also serve to explain her strong polling numbers. Despite appearing in the Post-ABC poll, Warren has said she would not challenge Clinton in the primaries. As for Biden, he would be 74 years old by Inauguration Day, and his past donors and former staff have told Time that he does not see himself as a contender. Co-founder of the Progressive Change Campaign Committee, Adam Green, told the publication that, "If she embraces things like more Wall Street reform and expanding Social Security benefits instead of cutting them, there will be very little space for a primary challenge of the left."
Similarly, Democrat advisory Toby Chaudhuri believes that, "There isn't a huge space for a challenger, so the left is really focusing on making sure Clinton is where she needs to be" on issues like privacy, Guantánamo, and ending the war in Afghanistan. Plus, with her massive political persona — built from eight years as first lady, a presidential campaign of her own, and a four-year tenure as Secretary of State — she poses strong competition for any would-be candidates among the Democratic party.
Her years heading the State Department give voters some idea of what a Hillary Clinton presidency would look like. As Secretary of State, she sided with generals in favor of the troop surge in Afghanistan; the recently released report from the Senate Intelligence Committee faulted the State Department for the security lapses that led to the 2012 terrorists attacks on American diplomatic mission in Benghazi; and, her department enabled the Obama administration's lethal drone campaign. "She is a hawk, but she's a smart hawk," former ambassador James Jeffrey told Drehle.
If Clinton does indeed decide to run and if she does indeed win the party nomination, her electability may be looked at in a new light. The upcoming election will not be an easy fight for either the Democrats or the Republicans given the great dissatisfaction with the American government expressed in recent surveys of the American public. But, as Drehle notes, "blurring the bright lines of an increasingly polarized public has always been the Clinton family business. Give them the choice of A or B and they'll gravitate to C."
Still, there are many questions; can that strategy appease an American public hungry for action and tired of political inaction; can Clinton run the disciplined and tech-savvy campaign required by the post-Obama political world; and, can the Democratic party overcome what has been a tough few years for its legislative agenda.
The GOP has its own problems to solve and differences to negotiate. Comparatively, no clear favorite presidential candidate emerged for the Republican Party, with votes distributed much more equally in the Post-ABC poll; Wisconsin Representative and Mitt Romney's 2012 running mate Paul Ryan took 20 percent of the votes, former Florida governor Jeb Bush received 18 percent, the beleaguered New Jersey Governor Chris Christie won 13 percent, Tea Party Senator Ted Cruz of Texas won 12 percent, Florida Senator Marco Rubio won 10 percent, and Kentucky Senator Rand Paul won 11 percent.
More From Wall St. Cheat Sheet:
Follow Meghan on Twitter @MFoley_WSCS