Will Lennar Continue Rebuilding?
With shares of Lennar (NYSE:LEN) trading around $41, is LEN an OUTPERFORM, WAIT AND SEE or STAY AWAY? Let's analyze the stock with the relevant sections of our CHEAT SHEET investing framework:
T = Trends for a Stock's Movement
Lennar engages in homebuilding, financial services, and real estate businesses in the United States. After the housing bubble collapse in 2008, the company saw a disastrous decline as homebuilding was not of interest to most consumers and businesses. As markets continue to recover, Lennar has been one of the leading providers in this area. Look for Lennar to continue to capitalize on this positive movement.
Head on over to the next page to explore the technical landscape of Lennar's stock…
T = Technicals on the Stock Chart are Strong
Lennar's long-term price chart shows the stock having a magnificent run followed by a terrible decline. Currently, the stock has been in an uptrend since bottoming in early 2009. Let's use key simple moving averages to identify a price trend and its strength. What are the key moving averages? The 50-day (pink), 100-day (blue), and 200-day (yellow) simple moving averages. As seen below, Lennar is trading above all of its rising key averages which signals a strong uptrend in the near-term.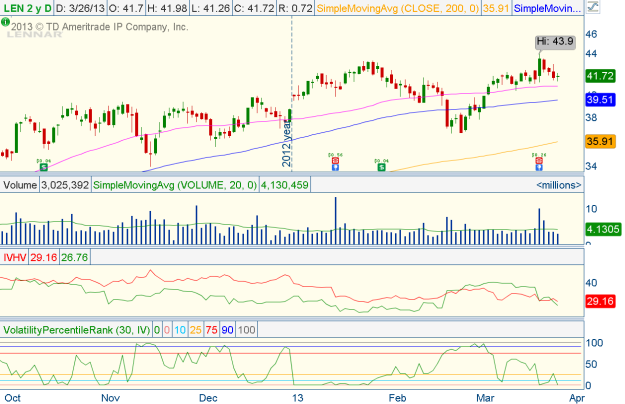 (Source: Thinkorswim)
Taking a look at the implied volatility and implied volatility skew levels of Lennar options may help determine if investors are bullish, neutral, or bearish. As seen in the price chart above, the implied volatility (red) of Lennar options is at 29.16 percent today which coincides with a zero percentile over the last 30 trading days and zero percentile over the last 90 trading days. What does this mean? This means that investors or traders are buying a very small amount of call and put options contracts, as compared to the last 30 and 90 trading days.
The implied volatility skew of April and May put and call options is average. So as of today, there is an average demand from call buyers or sellers and average demand by put buyers or sellers, all neutral over the next two months. Investors are buying a minimal amount of call and put option contracts and are leaning neutral over the next two months.
On the next page, let's take a look at the earnings and revenue growth rates and the conclusion.
E = Earnings Are Excellent Quarter-Over-Quarter
Rising stock prices are often strongly correlated with rising growth rates. What do the last four quarterly earnings and revenue growth figures for Lennar look like? The last four quarterly earnings growth (Y-O-Y) rates have been: 225, 256.2, 263.6, and 284.3 percent while the last four revenue growth (Y-O-Y) rates have all been: 36.57, 41.7, 34.09, and 21.67 percent. Lennar has posted excellent earnings and revenue growth rates over the last four quarters.
More importantly, how did the markets take these numbers? The last four quarterly earnings announcement reactions help gauge investor sentiment on Lennar's stock. The last four quarters have seen next trading session returns of 4.78, -0.82, -1.46, and 4.75 percent. The markets have had mixed emotions about Lennar's last four earnings announcements.
P = Poor Relative Performance Versus Peers and Sector
How has Lennar stock done relative to its peers and sector? Year-to-date, the stock is returning 4.56 percent while its competitors, KB Home (NYSE:KBH), DR Horton (NYSE:DHI), PulteGroup (NYSE:PHM), and sector are returning 35.48, 18.69, 8.41, and 9.7 percent respectively. Lennar has been a relative underperformer, year-to-date.
Conclusion
Lennar seeks to rebuild its presence in the homebuilding industry. Homebuilders, as a whole, are beginning to pick-up demand in different areas across the country. Lennar's stock has been a strong performer in recent years on excellent earnings and revenue growth rates. However, it has not done so well relative to its peers and sector. Look for Lennar to catch-up and OUTPERFORM.
Using a solid investing framework such as this can help improve your stock-picking skills. Don't waste another minute — click here and get our CHEAT SHEET stock picks now.