Will More Consumer Debt Fix the U.S. Economy?
While March served up another heaping pile of disappointing jobs data on Friday morning, consumer sentiment appears to indicate that Americans still have confidence that the economic recovery will continue to chug forward at a modest pace. On Thursday, Bloomberg reported that its measure of consumer comfort closed out the first quarter of 2013 at its second highest level since 2008 and the Federal Reserve announced Friday that borrowing by U.S. consumers jumped as well.
In February, consumer credit — a measure of lending that excludes home mortgages — rose by $18.14 billion to a seasonally adjusted $2.799 trillion in debt outstanding. The metric was pushed upward by a $17.6-billion increase in the number of student and automobile loans Americans took out during the month, providing a sign that consumers are becoming more comfortable about the economic recovery. As The Wall Street Journal noted, the Federal Reserve's report provides analysts evidence of consumer spending patterns, an especially important signpost for economic growth as the metric accounts for approximately 70 percent of United States economic activity…
Although the measure of credit rose higher than analysts predicted, outside of nonrevolving credit types like student and automobile loans, the gains were relatively flat. Revolving credit, which primarily consists of credit-card debt, rose $532.82 billion in February to approximately $848 billion outstanding.
Economists polled by Dow Jones Newswires estimated an increase in consumer credit of $16.2 billion.
Since August of 2011, consumer borrowing has slowly, but consistently picked up after falling significantly in the aftermath of the financial crisis. Borrowing dropped below $2.4 trillion in the summer of 2010, and credit-card borrowing still remains below the peak of $1.028 trillion hit in July 2008. However, the student-loan market, now dominated by the federal government, has grown, increasing $4.2 billion to $556.9 billion in February.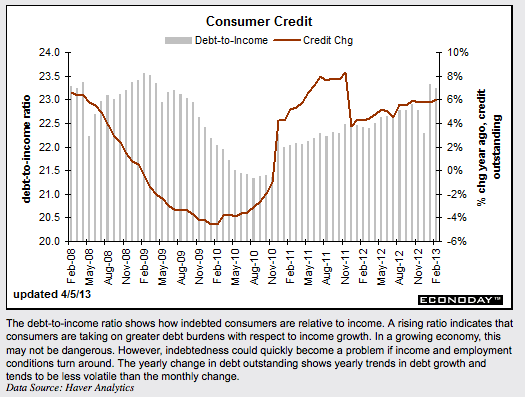 Don't Miss: Is Tax Gamesmanship Part Of U.S. Corporate Culture?