Will Mortgage Applications Keep the Housing Recovery on Track?
Applications for home mortgages in the United States increased for the first time in three weeks, as the housing market welcomes a drop in interest rates.
According to the Mortgage Bankers Association's latest report for the week ending March 22, loan application volume jumped 7.7 percent on a seasonally adjusted basis from one week earlier. This comes after a 7.1 percent drop. On an unadjusted basis, the index gained 8.0 percent. These figures include both refinancing and home purchase demand, and covers over 75 percent of all domestic retail residential mortgage applications.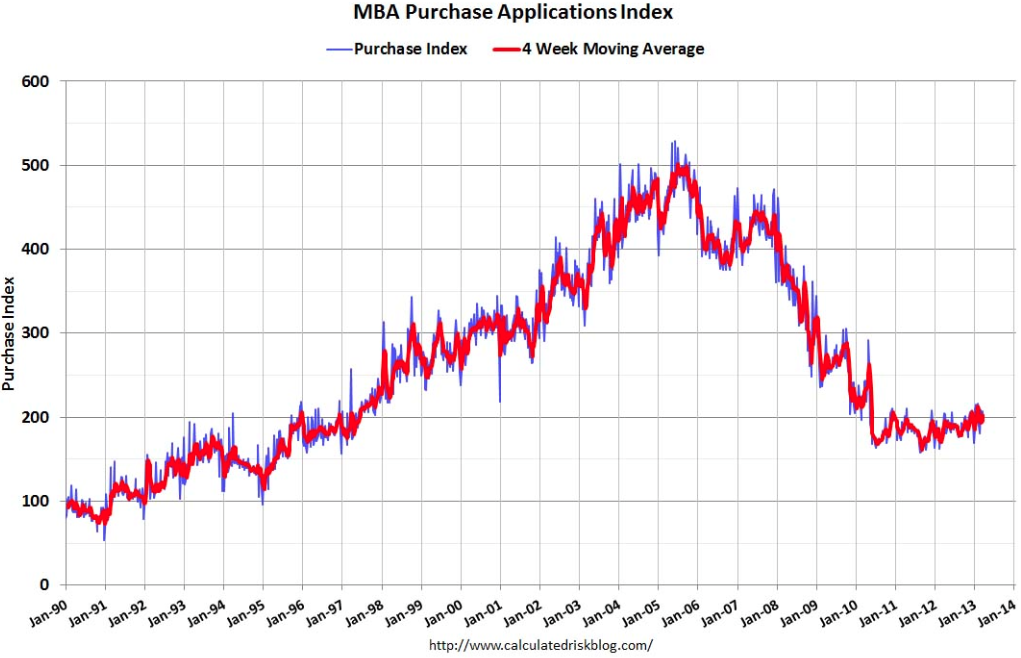 The industry group's Refinance Index increased 8.0 percent from the previous week, while the Purchase Index rose 7.0 percent. On an unadjusted basis, the Purchase Index still increased 7.0 percent and was 10.0 higher than the same week one year ago. As the chart above shows, the purchase applications index is still on the rise, but well below its glory days.
Overall, the refinance share of mortgage activity remains unchanged at 75 percent of total applications. The refinance share declined for ten straight weeks prior to the most recent reading, and is at the lowest level since May 2012.
The average interest rate for a 30-year fixed-rate mortgage came in at 3.79 percent, down from 3.82 percent in the prior week. The previous week posted the highest contract rate since August 2012. Points on the average mortgage increased from 0.38 to 0.44 (including the origination fee). The average rate for a 15-year fixed-rate mortgage was unchanged at 3.02 percent.
While mortgage applications were able to break their losing streak, new home sales may give reason for caution. Earlier this week, the Commerce Department reported that newly built homes sold at a seasonally adjusted rate of 411,000 in February, down 4.6 percent from January. Economists polled by Reuters expected sales at a 422,000-unit rate last month. However, low interest rates and inventory levels have boosted new home sales 12.3 percent above year-ago levels.
In morning trading, shares of homebuilders such as KB Home (NYSE:KBH) and PulteGroup (NYSE:PHM) traded lower, while The Home Depot (NYSE:HD) dropped 1.3 percent.
Don't Miss: What Can Warren Buffett Teach Us About Cyprus?